News
Travel & Tour
ICAO reaffirms Sri Lanka flying high in its Aviation Security Systems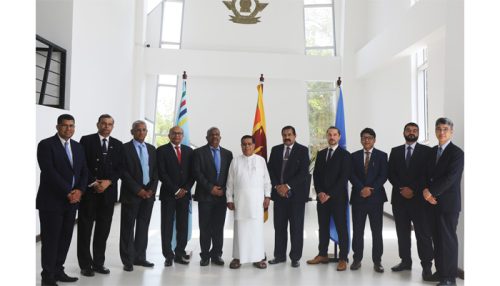 ICAO audited Sri Lanka aviation security systems under the Universal Security Audit Programme Continuous Monitoring Approach (USAP – CMA) during period 8 May thru 18th 2023. Here, the implementation of standards in the Annex 17 – Aviation Security and the security related standards in Annex 09 – Facilitation together with the State capability on oversight of aviation security under 8 critical elements were subjected to careful and impartial evaluated by four member aviation security audit team, nominated in the hands of Secretary General to the ICAO.
11 full days of scrutiny on the aviation security systems had revealed that Sri Lanka is flying high in its performance.
At the concluding event, the post audit debriefing by the ICAO audit team leader – Mr. Aurelien Lavayssiere presenting its interim report declared that Sri Lanka has achieved 92% of the score.
The DGCA and the Appropriate Authority for aviation security, Mr. P A Jayakantha in his appointment as the National Coordinator for USAP audit Sri Lanka, speaking at this event noted that all that was made possible due to the commitment and dedication of the Aviation Security inspectorate together with the industry counterparts.
The Honorable Minister of Ports, Shipping and Aviation, Nimal Siripala de Silva (MP) was present throughout the post audit debriefing stated that the Sri Lanka is proud of  this achievement and shortcoming, if any,  will be corrected sooner than later, giving an immediate moral support to those involved in the auditing process.
Mr. G. S. Withanage, the Chairman, Mr. Damitha Narangoda, the Vice – Chairman of the Civil Aviation Authority and  the Chairman Airport and Aviation Services (Sri Lanka) (Private) Ltd., the licensed Aviation Security Service Provider too were present throughout the event.
The minister also noted that the ongoing developments and initiatives of the civil aviation projects and tourism will also be beneficiaries of this Sky High achievement, expanding the horizon of the aviation map and commercial aircraft transport operations too be escalated towards greater heights.