Travel & Tour
Indian Media and Travel influencers have taken the lead to support Sri Lanka Tourism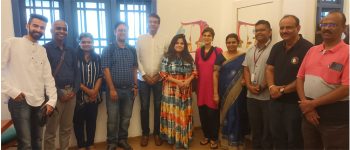 Under the Sri Lanka Tourism Promotion Bureau's Visiting Journalists & Blogger Programs, a group of high-profile Indian media delegations was invited to Sri Lanka from 3rd July to 11th July 2022 to re-discover Indo-Sri Lanka historical relationships within two nations.
A total of 08 members of the delegation represent several key states & cities of India including Delhi, Mumbai, Pune, Kolkata, Bangalore, Hyderabad, etc. The total Indian audience expected to be reached via this media promotion will be approximately 104 million across India covering key outbound regions.
Some of the key Indian national & regional publications that participated for this destination exploration are Lokmat (Print – daily), Daily Sagar (Language – Marathi), India Blooms News Service (indiablooms.com), Mumbai Messenger (Language- Hindi), India Tribune (Language – English), Daily Do baje Dopaha (Language Hindi).
Sri Lanka Tourism Promotion Bureau (SLTPB), the national government agency for International Tourism Promotions has undertaken this timely important island promotional initiative in order to generate a positive destination brand image about destination Sri Lanka while showcasing the welcoming approach of tourism stakeholders in Sri Lanka.
With the current economic downturn, the country is facing, neighboring Indian tourists will be the first adventurous traveler segment to visit Sri Lanka on holidays and other tourism & leisure purposes. Yet, they are expecting real-life updates from Sri Lanka to know how travel is feasible. SLTPB has invited to above mainstream Indian publications as well as a group of well-established travel influencers to have a naked-eye look at the island mainly from the travel and show them how important tourism is to be kept alive for the betterment of well over 2 million Sri Lankans those who involved with it. Also, this promotional exercise expects to provide assurance about hassle-free travel to Sri Lanka and update on recent policy actions taken by the Ministry of Tourism to offer uninterrupted tourism services (ex: fuel).
For fellow Indian travelers, there are hundreds of reasons to select Sri Lanka as the best holiday getaway out of all regional destinations. With the currency variance, traveling to Sri Lanka right now makes ''The Read Deal'' for Indian Tourists.  Also, with less cultural shock and more familiar things (food, weather, culture) just like back in India, Sri Lanka is like a perfect holiday home located within a very short distance with frequent flights covering many states.
Visiting Indian media & influencers delegation expects to further promote Sri Lanka as one of the best tourist destinations in the region for potential Indian Travel Segments including Family Travelers, Honeymooners, Business Travel & Weekend quick break holiday seekers, Wedding & Mice, and Young Solo Travel and Pilgrims- Ramayana & Buddhist Trail.
To welcome this high-profile Indian Media delegation Sri Lanka Tourism Promotion Bureau (SLTPB) together with The Galle Face Hotel Colombo and Walkers Tours have organized an evening welcoming event on the 4th July.
Together with Hon. Minister of Tourism Mr. Harin Fernado, Chairman SLTPB Mr. Chalaka Gajabahu, Managing Director SLTPB Mrs. Padma Siriwardena, Director Public Relations STPB Mrs. Madubhani Perera, Assistant Director Public Relations Mr. Chaminda Munasinghe have warmly welcomed the Indian media delegation to Sri Lanka.
Officials from the Indian High Commission of Sri Lanka, members of Sri Lanka Association of Inbound Tour Operators Association (SLAITO), and key Indian entrepreneurs in Sri Lanka also participated in this event. During the event, they shared their positive views about the tourism industry in Sri Lanka and the support they seek from India's outbound tourism industry for a speedy recovery.
While welcoming the Indian journalists to Sri Lanka Minister Fernand stated to Indian media, Fuel trouble faced by the tourism industry will soon be 'sorted out by the implementation of a dedicated process to provide required fuel for travel.  "If you visit even today, your (tourists) vehicles will have fuel in them as we have made it an essential service, so, tourists will be free to move around," he said.
(https://www.indiablooms.com/news-details/N/82750/sri-lankan-government-planning-to-open-tourism-office-in-gujarat-soon-minister-harin-fernando-invites-indian-tourists-to-visit-island-nation.html).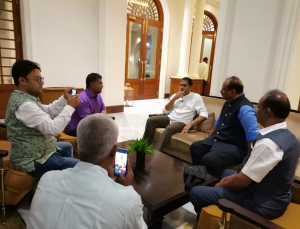 Senior Indian Journalist Mr. Seeetaram Mewathi from Mumbai Messenger has shared his views about visiting Sri Lanka and witnessing the current situation of Sri Lanka.
During my visit to Sri Lanka, I could see that it's safe for tourists to visit. As today's crisis and agitation is a global phenomenon, so nothing to worry about it. As Hon. Minister Mr. Fernando assured us that things ultimately turn back to normal soon, and there will be no reason for panic. From a busy city like Colombo to the central parts of Sri Lanka (Sigiriya, Nuwara Eliya) you have a package to see here.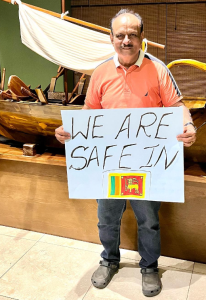 Journalists have also visited Sri Lanka Broadcasting Corporation (SLBC) and witnessed the birthplace of Radio Ceylon. Chairman of SLCB Mr. Hudson Samarasinghe welcomed the Indian delegation and took them on a tour of historical areas related to Radio Ceylon and Old Indian Songs Archives. Mr. Samarasinghe has further shared his suggestion to promote Radio Ceylon as a tourist attraction for international Tourists specifically Indians who carry greater memories of listening to their favorite Hindi and other languages songs via Radio Ceylon during their childhood.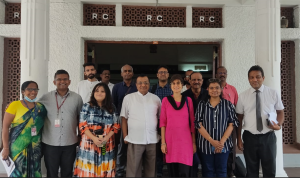 Visiting Sri Lanka Broadcasting Corporation (formerly Radio Ceylon) and welcomed by the Chairman Mr. Hudson Samarasinghe and senior officials.
On behalf of the hospitality sector of Sri Lanka, The Galle Face Hotel has arranged a special welcoming session for the Indian delegation.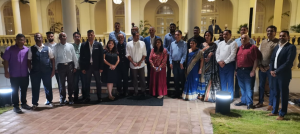 Indian High Commission for Sri Lanka also welcomed the media delegation and Mr. Eldos Mathew Punnoose – First Secretary for Press and Information, Development Corporation shared High Commission's view towards supporting for Sri Lanka Tourism Industry and improving trade and social developments in Sri Lanka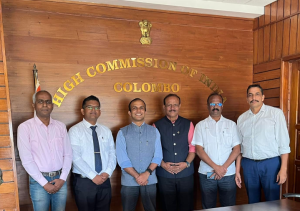 Mr. Supriyo Hazra, Senior Correspondent, India Blooms News Service, a news agency based in Kolkata that also runs a news portal, and produces 2000 stories every month with reader base across the world, besides operating dedicated travel and tourism portal Not In Town, shared his views by stating:
The trip to Sri Lanka was an eye opener for me and now I feel the country, it's people and the government is really trying hard to normalize and better the lives of its citizens. Yes, based on reports shown in certain sections of the media, I was worried about the actual condition of the country. However, as the old word goes seeing is believing. Nearly for a week, I am visiting Sri Lanka and there is not a single issue that actually bothered me. Yes, in many nations, Sri Lanka is fighting a crisis and the government is trying hard to recover the nation from the state. Sri Lanka, I feel is in the right hands. As a journalist from India, I personally feel it is our duty to help our neighboring nation by writing about the actual situation. It is not at all scary. Sri Lanka is actually showing the world that how a nation can fight all difficulties to return to a normal state. The cooperation of the people is amazing in this fight to rebuild the nation. As a journalist we need to showcase this positive frame of mind as showcased by the people and the government. Travel and tourism is one crucial sector for any nation to earn foreign revenues. Sri Lanka is beautiful and it needs more promotion for Tourists coming from India and abroad.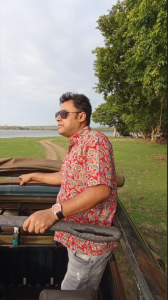 Partners from Sri Lanka Tourism & Hospitality Industry (Including Ekho Surf- Bentota, The Galle Face Hotel- Colombo, Jetwing Lake- Dambulla, Jetwing St. Andrew's- Nuwara Eliya) has offered their maximum support for this national tourism promotional campaign.