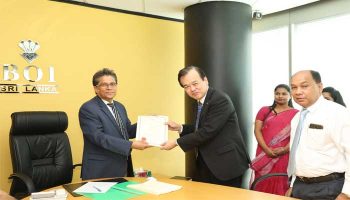 The Board of Investment of Sri Lanka signed recently a new Investment Agreement with Wakana JPN (Pvt) ltd. The Agreement was signed on behalf of the BOI by Mr. Mangala Yapa, Chairman of the BOI and on behalf of the company by Mr. Hiroyuki Ota, Director and Mr. T. G. Sunil Wickrama, Director.
This Agreement underscores the message that Sri Lanka's tourism sector is well set to recover and flourish, as the country was recently awarded the title of "the best place to travel" twice by the leading tourism industry publication "Lonely Planet" Magazine. This recognition happened in spite of the Easter Sunday attacks. Tourism is the third largest foreign exchange earner in the country. It is a noteworthy milestone that the Japanese investor has expanded his operations in the country.
Wakana JPN (Pvt) Ltd., will set up exclusively to construct and operate a 21-roomed new boutique hotel in Ahungalla, with an investment of US$ 8.4 Million.  The new hotel to be constructed is to serve the Sri Lankan hospitality industry, but with a Japanese style designed by the renowned architect Mr. Kengo Kuma. Every aspects of the new boutique hotel from the design of the building, to the furniture, internal decor, cuisine, etc. are to be optimized according to the traditions of both Sri Lanka and Japan.
This will serve as a bridge between the two cultures. Japanese Foreign Direct Investment will help attract a more diversified international clientele, while creating and providing employment for the local population. This will foster both a development of physical capital and a development of human capital; enhancing the value of the Sri Lankan hospitality industry and the economy in general.
The group presently owns and operates two more hotels: Coral Rock by Bansei (Bansei Royal Resorts Hikkaduwa PLC.) and Club Villa Bentota (Bentota Club Villa (Pvt) Ltd.). In addition to these investments, the group foundation has a long history of having invested in Sri Lankan government financial securities and instruments.