News
KDU establishes Faculty of Criminal Justice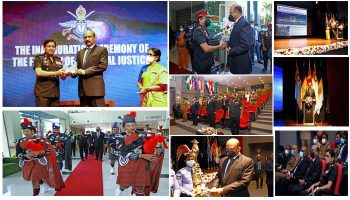 Defence Secretary declares open Faculty of Criminal Justice of KDU
New faculty a first of its kind
Defence Secretary Gen. Kamal Gunaratne ceremonially inaugurated the Faculty of Criminal Justice of the Kotelawala Defence University (KDU) in Ratmalana on 19th January. The landmark ceremony also saw the opening of the Stage II of the KDU Press.
The newly established faculty is the 11th faculty of the KDU which is fast becoming a leading seat of higher education in the country.
Speaking at the event Defence Secretary Gen. Gunaratne said that the need of establishing such a faculty was initially made by the President Gotabaya Rajapaksa at the Security Council held on 19th October 2020, where he emphasized the value of creating a professional Police Force comprised of officers who are academically and professionally qualified with the law and its enforcement to serve the nation effectively. Subsequently the KDU was given the responsibility to create the necessary academic atmosphere and the KDU Board of Management approved the establishment of the proposed Faculty of Criminal Justice on 21st May 2021, he further revealed.
He was also of the view that the new faculty fulfills a timely need as a considerable number of school leavers and professionals seek higher education in this field and also developments of recent past in the domain of criminal justice and related fields in Sri Lanka have intensified the necessity to enhance the capacities of personnel who are engaged in the criminal justice system.
He expressed confidence that the very outcome of this great step taken by the KDU would immensely contribute to law enforcement and related systems by providing a community of well acquainted professionals in the field of Criminal Justice to our motherland.
During the ceremony the Defence Secretary also launched the website of the new faculty.
The ceremony commenced with the observing of a moment of silence to pay gratitude to the sacrifices of the war heroes. Dean of the Faculty of Criminal Science Prof. Jeeva Niriella made the welcome address.
Vice Chancellor of the KDU Major General Milinda Peiris presented a memento to the Defence Secretary as a token of appreciation during the ceremony.
Secretary to the Ministry of Public Security Major General K. Jagath Alwis, Inspector General of Police CD Wickramaratne, Director General of the INSS Prof. Rohan Gunaratna, senior police officers and members of the KDU academic and administrative staff were present at the occasion.