Top News
Mannar: A unique blend of birds, sand dunes and mangroves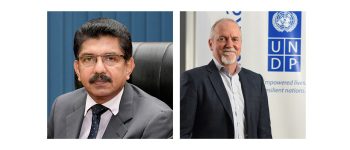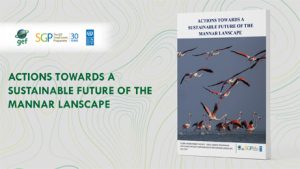 The wetland environment is one of the most priceless gifts of nature. Harmful human practices including ill-advised urbanisation, disposal of waste, and filling wetlands for commercial use are some of the problems that have led to endangering the wetland ecosystem.
Having ratified the Ramsar Convention on Wetlands in 1990, the Vankalai Sanctuary Wetland in Mannar Island was designated as a Ramsar Wetland in July 2010. Inclusive of this unique ecosystem, Mannar Island is home to the Adam's Bridge and sandy islands; sand dunes on the main Mannar Island; and the Korakulum wetland. However, the coastal region from Mannar to Jaffna, in particular, faces a variety of threats, such as dryness and a lack of clean water, soil erosion, deterioration of soil and water quality due to pollution, illegal disposal of solid wastes, destruction of the ecosystems of the coast and lagoons, population growth, and an increase in commercial activity.
The Small Grants Programme (SGP) of the United Nations Development Programme (UNDP) in Sri Lanka, funded by the Global Environment Facility (GEF), has the overall goal of enabling community organizations to take action for adaptive landscape management and collective decision-making to build socio-ecological resilience. The symposium on scaling up good practices in the Mannar Landscape was held recently via Zoom, looking at the work achieved through its Sixth Operational Phase (2017-2021). GEF-SGP provided grants to 10 community organizations within the Mannar landscape to minimize further disturbance to wetland systems by human interventions, through a participatory, multi-stakeholder, landscape management modality, aimed at conserving biodiversity, optimizing ecosystem services, and mitigating climate change.
Speaking at the event, Dr. Anil Jasinghe, Secretary to the Ministry of Environment stated, "With the support of GEF-SGP, community organisations in the Mannar island have been able to undertake the task of initiating projects to support livelihood development and landscape management in the area. Despite being an underdeveloped area, with the driest weather in Sri Lanka, it has highly diverse ecosystems, with one of the longest coastal ecosystems on the island."
The Association for Women Empowerment (AWE); Humanitarian Development Organization (HDO); Nature Conservation Foundation (NCF); Save a Life; Socio-Economic Development Association (SEDA); SL Turtle Conservation Project; Ecological Association of Sri Lanka (EASL); Soba Kantha Env. Management and Social Development Foundation (SKEMSDF); Zoological Student's Association (ZSA); and Voluntary Organization for Vulnerable Community Development (VOVCOD) were all grantees selected to carry out coordinated community projects in the landscape to generate ecological and socio-economic synergies that produce harmonized and long-lasting environmental benefits, increased social capital, and substantial benefits to local communities.
Speaking at the event, Mr. Robert Juhkam, Resident Representative, UNDP in Sri Lanka noted, "Biodiversity conservation and sustainable management of natural resources are central to transformative change for our current and future generations. The grantees have worked to produce an Atlas of the mangroves, salt marshes and sand dunes of the landscape, introduced environmentally friendly fishing techniques, as well as developed coastal and marine conservation systems, protected migrant and native birds at the Vankalai Bird Sanctuary and taken local community action in mangrove planting and eco-tourism enterprises. Although small initiatives, they may have an outsized big and lasting impact on the environment and communities".
The initiatives implemented by the project have empowered communities to protect the unique ecosystems of the coast and lagoon, sand dunes and wetlands while contributing towards uplifting livelihoods for women, unemployed or underemployed of the Mannar landscape.