Top News
National War Heroes commemoration ceremony held under the patronage of the President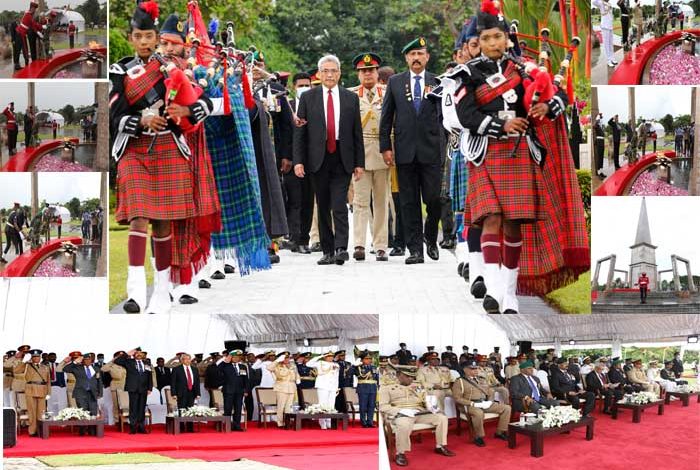 The 13th National War Heroes Commemoration Ceremony was held in a low profile at the National War Hero Cenotaph in Sri Jayawardenepura, Kotte under the auspices of Commander-in-Chief of the Armed Forces His Excellency the President Gotabaya Rajapaksa  Yesterday morning (May 19).
Armed forces in Sri Lanka defeated terrorism and brought peace to the country on May 18, 2009, ending brutal war prevailed over three decades. A large number war heroes laid down their lives for the motherland and maimed during the battle with the terrorists.
Accordingly, all War Heroes who made supreme sacrifices to bring peace to the country and the immense services rendered by them were remembered with respect.
The event was organized by the Ranaviru Seva Authority to commemorate the War Heroes who sacrificed their lives for the motherland and two-minute silence was observed in memory of the fallen War Heroes who sacrificed their lives for the country.
The War Heroes who fought against the terrorists were commended, the national anthem was sung and floral tributes were accorded at the War Hero Cenotaph.
Secretary Defence, General Kamal Gunaratne, Secretary to the Ministry of Public Security Major General Jagath Alwis,(Retd), Chief of Defence Staff and Commander of the Army General Shavendra Silva, Navy Commander Vice Admiral Nishantha Ulugetenne, Air Force Commander Air Marshal Sudarshana Pathirana, Inspector General of Police C.D Wickramaratne, Major General Ranjan Lamahewage (Retd), Director General, Civil Security Department Major General Nandana Senadeera (Retd), Chairman, Ranaviru Seva Authority and representative tri-service and Police officers and Civil Security Department officials were present at the occasion.