Top News
Travel & Tour
Sri Lanka Tourism kick-start an aggressive media and travel influencer campaign for Russia and Ukraine markets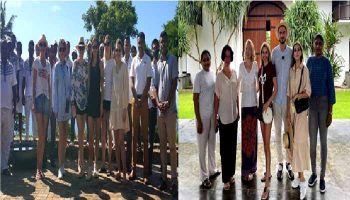 Targeting on immediate promotional boost within potential Russian and Ukrainian winter-holiday seekers, Sri Lanka Tourism has organized massive media and influencer promotion in the months of November/ December 2021 together with some high profile media / influencer delegations with a combined media reach of 12 million audience (in total circulation & subscriptions) covering both countries. Considering the current global travel trends, this is expected to be an important strategic move for Sri Lanka tourism for a speedy recover.
Due to the pandemic concerns, travelers are reluctant to make early bookings in advance and much prefer make quick travel decisions by analyzing the latest travel updates and recommendations.  Considering this 'New Normal Travel Patterns" organizing last moment media promotions will strategically position the island as a top of the mind holiday destination during the last moment winter holiday planning for 2021/2022.
Excluding all CIS countries (where Russians travel mostly for work and to visit their relatives), Turkey is the most popular country for Russians (as well as for Ukrainians) by a significant margin. 3.9 million Russian tourists visited the country in January-September 2017 and almost a million more (4.9 million) in the same period in 2018. Besides Turkey, the most popular countries among Russian tourists are: China, Thailand, Spain, Greece, Italy, Cyprus, Germany, UAE, and Tunisia.
According to 'Visa'- the international payment company, released their Visa Global Travel Intentions Study and revealed how much money people from different countries spend on a trip. Between 2016 and 2017, Russian travelers spent $1,676 per one trip – more than European travelers who spend $1,174.  At the same time, 51% of the budget is spent before the trip, and 49% – at the place of destination. 70% of Russians use bank cards when they plan their travel trips (www.tourism-review.com).  In 2020 alone, over 12 million Russians travel abroad which is a 45 % decrease from the year before in 2019- (approximately 19.8 million in 2019) and 2.1 million tourists were visiting Turkey.
These eleven (11) high prolific travel writers (representing key media publications) and travel influencers (Instagram & YouTube) were invited to Sri Lanka from 21st November to 8th December period to increase awareness about the reopening of Destination Sri Lanka for international tourists from 1st of October.
Some of the key publications invited are:
Vogue- Ukraine : https://vogue.ua/,
Harper's Bazzar- Russia: https://bazaar.ru/ ,
Total Escape- Ukraine: https://escapemgz.com/ ,
Areoflot Inflight Magazine- Russia : https://www.aeroflot.ru/ruen/information/onboard/entertainment .Also, famous Ukrainian Travel Bloggers & Instagramer Yana Usipava  (539,000 followings in Instagram -Link: https://www.instagram.com/yana_osypova/) and Maxis & Olha Uzol from the popular YouTube travel vlog : https://www.youtube.com/channel/UCwv4Vw-oa1cTPd4sfvDuSJw have also  been part of this Sri Lanka Tourism's media & influencer promotion .
According to Ms. Maria Alikhanova Golikova Director for Tourism at Aeroflot In-flight Magazine
  ''while popular high end destinations for Russians such as Italy, France, Bali (Indonesia) are still in hold to welcome Russian travelers, there is greater opportunity for emerging destinations like Sri Lanka to grab the market attention. Since there is direct flight connection now, Sri Lanka can be easily positioned as top of the mind tropical travel option to consider during the upcoming seasons 2021/2022.
To add on with that Ms. Maria Kudimova, Editor of Ukrainian travel magazine Total Escape has stated that "By combining amazing beaches with wild safaris, breathtakingly beautiful highlands, rich local cuisines Sri Lanka has all the elements to become a perfect island holiday destination for Ukrainian travelers. "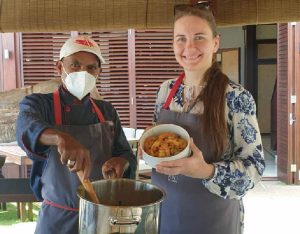 Ms. Maria Kudimova, Editor of Ukrainian travel magazine Total Escape,Trying Sri Lankan Prawns Curry at ANI –Resorts ,Dickwella .
Popular Ukrainian Travel Influencer Ms. Yana Osipava invited all of her virtual fans to explore Sri Lanka by stating:
"First time in Sri Lanka and I was so excited to witness Beautiful beaches, Great Hotels, Wild Elephants and Heritages such as Sigiriya Rock Fortress.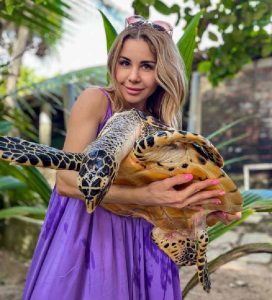 (Ms. Yana visiting a Turtle Hatchery in Kosgoda)
According to Ms Yulia Markovchina , Public Relations Director  for La Bibliotheque -Russia :
''Sri Lanka has so much to offer for Russian and Ukrainian high-end travel market and potential luxury travelers are still not fully aware about the Destination''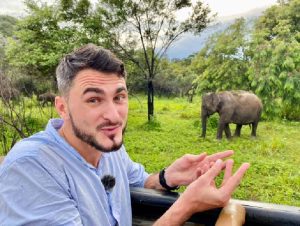 Both media & travel influencer groups traveled separately around the island covering Koggala, Dickwella, Yala, Nuwara Eliya, Kandy,  Habarana and Colombo . Local Tourism & Hospitality Industry partners including ANI Sri Lanka Resort –Dickwella, Amaya Resorts & Spa (Langdale Boutique Hotel by Amaya),  Jetwing Yala Hotel, The Fortress Resorts & Spa, The Galle Face Hotel,   The Theva Residency- Kandy , Cinnamon Hotels & Resorts and Table by Taru have joined hands with Sri Lanka Tourism Promoion Bureau to undertake the destination promotions.
Wild Safari at Minneriya National Park by Maksym Uzol from YouTube Channel UZOL AND MANKO
Invited media and travel influencers will be expecting share the unique experiences try have enjoyed in Sri Lanka within their millions of travel seeking audiences in Russia and Ukraine and invite them to explore Sri Lanka as their next bucket list destination.
Overall, with the pandemic lockdown and stages of travel restrictions, Sri Lanka Tourism has continued to undertake various media & travel influencer related promotions to ''Keep The Sri Lankan Holiday Dream Alive''. Total of 24 International media personnel and travel influncers were facilitated in Sri Lanka within the last 11 months and reached to over 25 million global audience via various online news articles, YouTube vlogs, Instagram & Facebook Posts, etc.  Key source markets were focused on including India, UK, UAE, Russia, Ukraine, USA & Canada and Norway. Under Sri Lanka Tourism's Visiting Journalists & Blogger Programs during the period of 2021, destination Sri Lanka has been featured in many mainstream online news channels and social media platforms. Approximately over 500 various ONLINE & Social Media Posts were created about destination Sri Lanka.
Sri Lanka was featured at BBC.travel in May 2021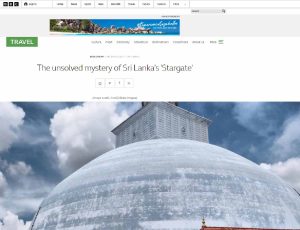 (Link: https://www.bbc.com/travel/article/20210502-the-unsolved-mystery-of-sri-lankas-stargate)
Authentic Sri Lankan Food Culture promoted via YouTube in July 2021
(Link: https://www.youtube.com/watch?v=uRBmu-eHeBE )
Sri Lanka Re-open Back for Int. Tourists and Travel Bio-Bubble
(Link: https://www.youtube.com/watch?v=CGKwnJYiAAg)