News
New Maldivian Envoy praises SL military training facilities given to their armed forces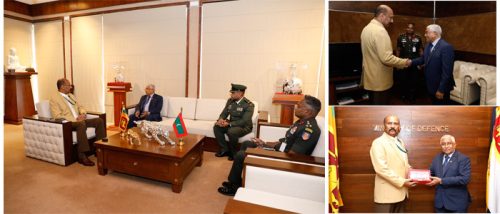 The newly appointed High Commissioner of the Republic of Maldives to Sri Lanka H.E. Ali Faiz commenting on the military training offered to Maldivian Defence Force by Sri Lankan military training institutes stated that Sri Lanka provides high standard and quality training for their Defence Force personnel.
During a discussion held with the Sri Lankan Defence Secretary General Kamal Gunaratne at the Defence Ministry High Commissioner Faiz also expressed his heartfelt appreciation for the support extended to Maldivians by Sri Lanka authorities, when they arrive in Sri Lanka for their various needs.
Maldivian Envoy expressed these remarks at the Sri Lankan Defence Ministry in Sri Jayawardenepura, Kotte while paying a courtesy call on Gen. Gunaratne, today (Mar 16).
It was his maiden visit to the Ministry of Defence premises and first official meeting with the Defence Secretary following the taking over of his new assignment in Sri Lanka.
H.E. Faiz was accorded a warm reception by the Defence Secretary upon his arrival at the Defence Ministry premises in the morning.
The visiting High Commissioner also expressed Maldives' fullest support to Sri Lanka and in response Gen. Gunaratne recalled the long held cordial relationship between the two countries and also added that Maldives has always been a friend to Sri Lanka.
Further, matters of bilateral importance and mutual relevance were also discussed at the session.
Ensuing the meeting Gen. Gunaratne conveyed his best wishes to the newly appointed High Commissioner and pledged his fullest corporation for his future endeavours.
High Commissioner Faiz, a Marine Engineer by profession presented credential to President Ranil Wickremesinghe last month (Feb 2). Prior to be appointed as the Sri Lankan envoy he was serving as the President of the Maldivian Police Board.
The Defence Secretary and Maldivian envoy exchanged mementos and gifts to symbolize the first official meeting and as a gesture of goodwill.
Deputy Military Liaison Officer Brig. Dhammika Welagedara and the Defence Attaché of the Maldivian High Commission Lt. Col. Hassan Amir were also present at the occasion.