News
"International Day of Awareness of Food Loss and Waste"- 29th September 2022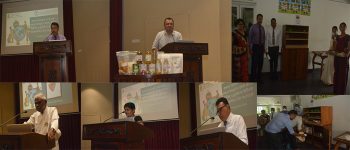 Theme : " Stop Food Loss and Waste for the People . For the Planet"

"International Day of Awareness of Food Loss and Waste" was celebrated on 29th September 2022 for the 3rd time world wide. The United Nations  General Assembly declared 29th September as International Day of Awareness of Food Loss and Waste in 2019 and it was commemorated since 2020.
As per the Food and Agricultural Organization(FAO) 1/3rd  of the food produced in the world goes wasted, which  amounts to 3.1 billion tons per year. Around 14 percent of the world's food is lost after harvest, up to – but not including the retail stage of the supply chain, and an estimated 17 per cent is wasted in retail and at the consumption level. This issue was recognized and was addressed under the Agenda for Sustainable Development. Sustainable Development Goal No 12, "Responsible Consumption and Production", addresses food loss and food waste where  it is targeted to  halve food waste by 2030.

Though massive amounts of food is wasted all over the world, global hunger continues to rise, and 821 million people are suffering from hunger according to the UN report on "State of Food Security and Nutrition in the World 2018".
In addition according to the Intergovernmental Panel on Climate Change (IPCC) report 2020, "Climate Change and Land" , global food losses and waste (FLW) were estimated to cause between 8%- 10% of total Green House Gasses (GHGs) emissions in the period 2010-2016, causing climate change.
In Sri Lanka the post harvest losses are around 30% – 40%, where the food waste amounts to about     3963 tons per day. (FAO/IWMI, 2021c).. The survey in the Colombo Municipal Council area has revealed that 75% of the food waste is generated from restaurants, 17% from markets, and  6% from slaughterhouse and meat shops (FAO, IWMI, and RUAF, 2018).
"Sri Lanka's Road Map on Urban Food Waste Prevention and Reduction for Households, Food services, Retailers and Wholesalers" was developed by Food and Agricultural Organization along with the contributions of relevant stakeholders. This was launched by the Ministry of Environment on 17th of August 2021.
Raising awareness on food waste prevention and reduction to facilitate behaviour change
Strengthening food waste measurement, monitoring, and reporting capacity of wholesalers, retailers, food services providers, households, and waste management players
Enhancing food literacy skills for food waste prevention and reduction for consumers, food services, retail, markets, and wholesale
Redistribution of Safe and nutritious food.
Increasing adoption of food waste segregation and conversion of former foodstuff into animal feed
Strengthening food waste segregation for separate collection, conversion into compost, bio gas, or sustainable energy recovery from food derived waste
Key messages of the Food and Agricultural Organization are:
As the world's population continues to grow, our challenge should not be how to grow more food; but reducing food loss and waste in a sustainable manner, is an immediate need if we are to maximize the use of food produced to feed and nourish more people
Prioritizing the reduction of food loss and waste is critical for the transition to sustainable food systems that enhance efficient use of natural resources, lessen planetary impacts and ensure food  security and nutrition.
Reducing Food Waste is one of the most impactful climate solutions
Climate smart innovation, technologies, and infrastructure to reduce food loss and waste are key to increasing efficiency and reducing food system emissions.
Food is never waste! By applying circular practices, lost and wasted food can be converted to compost, or used to produce biogas, thereby avoiding harmful methane emissions.
Good governance, human capital development, collaboration and partnerships are essential in maximizing the positive impacts of reducing food loss and waste.
The main event of the "International Day of Awareness of Food Loss and Waste" was commemorated at the Ministry of Environment under the chairmanship of the Secretary/ Ministry of Environment and there were two guest lectures by Mr.  Nishantha  Jayatillake – Managing Director – "Worga Naturals Pvt Ltd" who spoke on "Earning dollars through underutilized food crops like Jack fruit in Sri Lanka" and Chef Dr. Pabilis Silva spoke on " Minimizing wastage in food preparation and preparing nutritious food at a low cost".
A Food Bank was opened within the Ministry premises to minimize food waste and share  extra food among the staff members. This event was sponsored by the United Nations Food and Agricultural Organization. Mr Nalin Munasinghe /Assistant FAO Representative for Programmes Maldives & Sri Lanka too addressed the gathering on minimizing food loss & waste and the initiatives taken by FAO.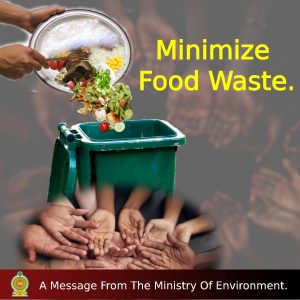 Sujeewa Fernando
Assistant Director (Environment Pollution Control & Chemical Management)
Ministry of Environment