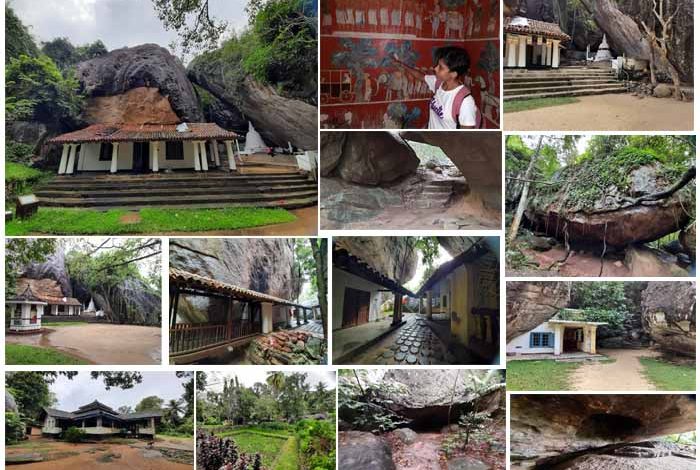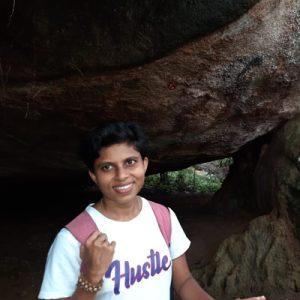 The heritage of Gampaha is another beautiful and ancient gateway to Sri Lanka. Gampaha is a beautiful district in the Western Province of Sri Lanka that is rich in natural beauty.
Pilikuththuwa is a one of a beautiful village which is located in Gampaha.  According to ancient divisions, this beautiful Pilikuththu monastery can be seen in the Pilikuththu temple ground of this village which belongs to the Maya country and lie at a distance of 32 km from Colombo City.
This archeological site is about 200 acres and has about 102 natural caves and drip ledges caves. In addition, there are large number of natural ponds, tunnels and other heritage buildings and mural paintings which have an archaeological value. It is also the largest cave complex which can found in the western part of Sri Lanka. The potential for popularizing this cultural heritage among foreign tourists is vast, especially due to its location in the vicinity of the site of the Katunayake Bandaranaike International Airport. It is possible to visit this unique place, especially at the end of your travel package.
Name of Pilikuththuwa
There are so many myths about the use of the name Pilikuththuwa. It is said that this was the place where King Walagamba concealed and organized his army in this hill area. So this village has popularized to supply royal clothes to the king. In Sinhala, 'Pili' means 'Clothes', 'Kotuwa' means boundary of place So it was become the name of 'Pilikotuwa'. Hence it became 'Pilikoththuwa' and later Pilikuththuwa. There is a rumor that this is also the place where the Queen of King Walagamba's clothes and jewellery were saved. This folklore also exists around the names of the surrounding villages such as Buthpitiya and Maligathenna. But Archaeological evidences of these are almost non-existent.
History
From the archeological evidence, it is believed that this area has been inhabited since pre-historic times. Caves with drip ledges prove that the monastery may have been used during the periods of 2 – 3 century BC by the monks as their abodes.
Uruwala, Maligathenna, Warana, Miriswatta and Koskandawala cave temples situated in the vicinity of the Pilikuththuwa temple are said to have been formed from one major temple complex in the Early Anuradhapura period.
Forklores
According to the legends connected with this monastery, King Walagamba (89 – 77 BC) used to stay in this historical place from time to time during the invasion from South India to Sri Lanka. In this condition, King Walagamba organized an army in Pilikuththuwa. So the Pilikuththuwa Cave temple was the site of a special reign during the reign of King Walagamba. But all of these are forklores about Pilikuththuwa. But archeological evidence of them has not yet been found.
Archaeological Site
Archaeologists are still struggling to gather enough evidence before reaching the final conclusions about the nature of the site. They have found very important factors about Pilikuththuwa monastery afterwards excavation in 1995. This is because there are several cave inscriptions of Early-Brahmi script here. Then Stone tools and Animal bones which belong to Pre-historic period have been found in southern cave call 'Dakini Lena'.  As well as, red coloured clay pots and corals, that belongs to early centuries have been found in a cave call Thoppigala recently.
They are the best archaeological evidences which could to found. Thus, the caves in this area date back to the time of the pre-historic human beings.
Some writer has also suggested that Pilikuththuwa monastery was a temporary used by monks during the rainy period call Vas period according to Buddhist culture.
Caves and Inscriptions
Two types of caves in Pilikuththuwa could be identified in this hill forest. They are very old natural caves with authentic natural significance and the caves with drip ledges which rich with cultural significance. Caves with drip ledges were created for monks by local people, especially by the local leaders who lived in that period in around this area.
Four caves are unique as well as they are special. Because of early-Brahmi scripts which were found in caves.
According to these four inscriptions, there was evidence that the caves were dedicated to the Maha Sangha/ Buddhist monks.
These four cave inscriptions dated back to the 2nd to 3rd century BC. They read:
'Manorama'
It means fascinating.
Since these names are still commonly used to refer to houses, it is possible that this was the name used to describe the cave at the time.
2. 'Anikatasha Bhatu No Agibuthi No Dine
Agatha Anagatha Chathudisha Sagasha'
It means the donation of Aggibhuti who was the brother of the cavalry chief. These donations were made to the monks coming and not coming from the four directions.
'Dakini Lena'
It means Cave in southern / south cave.
This is also a named cave. This too has a history dating back to prehistoric times, when excavated animal bones, pottery, beads, and coins were identified.
'Parumaka Purana Putha Datasha Chabatha … Mitasha Cha Lene'
It means, this cave was donated by the Chief Purana's son Datta and Swami's Mitta. It is an old habit for naming something which is donated by someone.
Ancient buildings with Caves
Most of caves can be seen in Pilikuththu that they used to build some monastery buildings for monks too. They are Shrine house cave, Pagoda cave, Devala cave, Pohoya cave, Dutch hermitage cave, Hermitage houses caves in Kandy period etc…
The unique cave temple at Pilikuththuwa shows many features of the technology of temple construction at that time. Those identified as having been built in the post-Kandy period in Sri Lanka.
This cave building brings the developed Buddhist cultural face to this sacred place. The shrine house was built with several cement steps and has a door facade. Then next there is the aisle where Jataka stories (stories which are coming in Buddhist culture) were painted. When we reach that aisle, we can be seen there are two murals of Portuguese guards on both side of the entrance to the Inner scent chamber. These murals are dated back to the 18th century, as the left-hand watchman marked a certain year in the 18th century.
The zodiac in the center of the aisle shows the features of murals in Kandyan period in Sri Lanka. Seated statue, standing statue, and laying statue of Buddha, were built at the end of the scent chamber.
The canopy of this cave covered with painted lotus flowers. There are about 350 lotus flowers here. There are few paintings of Arahants in the Scent Chamber wall and it is very special to have four paintings which can be considered as Arahant nuns and other nuns. It is also a pleasure to see this painting feature which is not found in any other temple in Sri Lanka. Because we can speculate that the Arahants lived and meditated here by that time.
In addition, the depiction of parrots and grackles suggests a unique cultural and spiritual environment by that period. Different colors were used in these paintings, and it is believed that natural materials were used for making colors. It is said that these were later renovated.
Another cave named as Pagoda Cave has been built in a cave in Pilikuththuwa. It was built in kandyan period and pagoda made by clay and has a bell-shaped.
The Old Pond
The old pond at the way to the temple is also filled with spring water which is flowing from the Hill mountains to the tank that named Abhaya, through a wooden bridge tunnel. This tank is located at the right end of the temple. It is said that this was done by King Walagamba for the needs of the monks.
The Ancient preaching hall can be seen at the entrance to the Pilikuththu temple which was built during the Kandian period. Its pillars and floor have been finished by stones. There are eight entrances to this hall which has three terraces, has eight uncut carved moonstones. Wooden carved planks are created between the columns. Very nice carved valance board can be seen around the hall.
Dwelling houses belongs to Dutch period and Old palanquin
The Dutch hermitage is located in the lower part of the present residential house. Its columns show the features of Dutch or post-Kandyan period. Several hermitage caves are situated in this area. They were built in Kandyan period, while we are walking to them we can be seen a special wooden bridge over a water tunnel. This wooden bridge seems to be made of wild bread tree. This bridge has two handrails and it is covered with a roof which is somewhat similar to the Badulla Bolgoda Bridge in Sri Lanka.
You can see an old palanquin parked in the cave. Ven Hikkaduwe Sumangala thero has come to this temple by this palanquin. This Thero was a Chief Buddhist monk in 19th century and it depicts transport service at that time in Sri Lanka.
Going a little beyond the mythological and folklore stories, it is the beauty of nature that heals our bodies and minds. It is a relief to see such a rocky forest near the capital city.
Another natural unique is the giant pus leave that is more than five hundred years old. This giant pus leave is an oldest and largest pus leave in Sri Lanka. This pus leave is climbing between the rocks, caves and top of the trees. This puswela is an oasis that perfectly captures the beauty of nature.
Belumgala/Observation Rock
After passing a number of rock caves in the footpath running through the forest, you reach the land where Diggala is located. A little further up, the main rock plateau called Balumgala(Observation rock) is a popular tourist destination. This is also considered as a place used for spying during the royal period. When you enter Belumgala you can see the city of Gampaha on the left, Maligathenna sacred area on the right and Koskadawala RajamahaViharaya on the north. This is a rocky plateau that looks like it connects many Gampaha heritages.
Flora in Pilikuththuwa
In addition, you can see an environment full of valuable local medicines in the Pilikuththu monastery. On both sides of the access road you can see plants such as moonflowers, Pilikuththu mango, Akkapana and HeenBowitiya.
On the slopes of the hill containing Pilikuththuwa Monastery is a cluster of natural rock caves once used by monks for shelter and meditation. Only few of monks are meditating this site at the present.
However, this forest is also slowly becoming inhabited, which can be inferred from the distant plantations of pineapple and rubber. Settlements along these lands, which are agricultural lands, have also gradually entered, and people have been unwittingly persuaded to build resorts on a rocky outcrop. This clearly shows that even the ruins of the Arahants who grew up in this area are subject to it due to reasons such as the existing land allotment. Suppose, however, that they receive protection from the Archaeological Acts.
Nourished by various legends and endowed with some of the most valuable archaeological evidence, we can assume that this abominable backyard is still a haven for the spiritual journey of the monks. The caves where the monks still meditate in the forest reserve are a prime example.
The historically and geographically significant Pilikuththuwa Cave Complex rarely catches the eye of tourists visiting Sri Lanka. This is also a group of caves where Arahants who lived spiritual lives such as Mihintale, Rajagala and Pidurangala. Therefore, this place will be a valuable visit for your spiritual purity and educational inquiry.
Pilikuttuwa Cave temple can be pointed out as a new tourist heritage center. So, you can join with me and experience this unforgettable tour in old cave monastery. Then unmentioned in most guide books, Pilikuththuwa is actually one of largest and most picturesque and most interesting cave temples in Sri Lanka. Those rare foreign visitors who find their way to Pilikuththuwa hence can experience a genuine Sri Lankan monastery, giving an expression how historical caves may have looked like, when they founded in early 3rd Century BC.