News
Poppy pinned on State Minister of Defence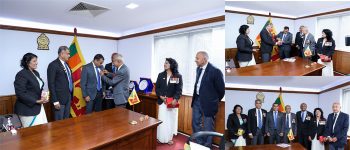 A group of representatives of the Sri Lanka Ex-Servicemen's Association (SLESA) met the State Minister of Defence Hon. Pramitha Bandara Tennakoon and pinned a Poppy Flower on him yesterday (12 Oct).
The group led by Vice President SLESA Maj. Gen. Mahinda Ambanpola (Retd) met the State Minister Tennakoon at the State Ministry of Defence in Colombo this morning.
Sri Lanka Ex- Servicemen's Association annually organizes Poppy Day to commemorate the fallen war heroes.
The funds collected will be spent on welfare projects for war veterans and their families.
SLESA officials including the General Secretary Lt. Col. Ajith Siyambalapitiya, Treasurer Major P.K.C. Shantilal Kankanamge, Chairman -Armed Forces Commemoration Committee Maj. Gen. Ruwan Wanigasooriya, Maj. Chiltas De Siva and Mrs. Chandi Hettiarachchi were also present at the occasion.