News
Chairman Joint Chiefs of Staff: Pakistan pledges continued training support to SL military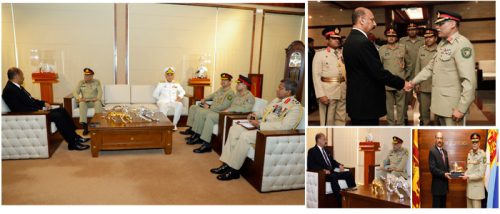 Chairman Joint Chiefs of Staff Committee of Pakistan meets SL Defence Secretary
Assures enhancing Pakistan's military assistance for SL to greater heights
Chairman Joint Chiefs of Staff Committee of Pakistan General Sahir Shamshad Mirza NI (M) pledged Pakistan's continued support for training of Sri Lankan military personnel, on Friday (Feb 10).
General Mirza also commended Sri Lanka's efforts for its on-going recovery from its economic crisis, at a meeting held with the Sri Lankan Defence Secretary General Kamal Gunaratne, during his visit to the Defence Ministry at the Defence Headquarters Complex in Sri Jayawardenepura, Kotte.
Defence Secretary Gen. Gunaratne who extended a warm welcome to the visiting delegation of Pakistan led by Gen. Mirza at the Defence Ministry sat for a friendly and fruitful discussion where a wide range of important topics was taken up for conversation.
The visiting Pakistani General also assured fullest cooperation from Pakistan military in order to enhance military assistance to greater heights during the session.
Recalling the long held friendly ties between the two regional countries, Gen. Gunaratne also went on saying the importance of maintaining existing strong military to military cooperation and expressed gratitude for Pakistan's unstinted support in the past.
Gen. Gunaratne also conveyed his condolences to the visiting delegation on the demise of former President, General Pervez Musharraf.
Ensuing the meeting, mementoes were also exchanged between the two defence officials to mark the occasion.
Director General, Joint Warfare and Training Rear Admiral Abdul Basit Butt, Personal Security Officer Brig. Muhammad Rajil Irshad Khan and Defence Advisor of the Pakistan High Commission in Colombo Col. Muhammad Safdar Khan accompanied the Pakistani General.
Military Liaison Officer of the Sri Lankan Defence Ministry Maj. Gen. Dinesh Nanayakkara was also present at the meeting.