News
Travel & Tour
Couch Safari – Sri Lanka Tourism's virtual adventure gains popularity among international travellers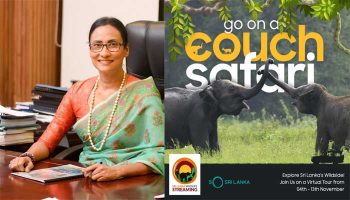 Wildlife safari live-streaming concept introduced by Sri Lanka Tourism has gathered tremendous interest and enthusiasm not only by domestic travellers but also by potential overseas travellers. First episodes covering Minneriya and Kaudulla National Parks have created over 100,000 impressions on social media and close to 800 comments.
"We have had a great response from viewers, and the engagement is very high. There is such a latent demand for wildlife on the island and this shows the necessity of promoting Sri Lanka's wildlife to the world. We have received a large number of requests for the proposed competition too. We request all Sri Lankans to share this link with overseas friends and business partners to further amplify the reach "said Kimarli Fernando, Chairperson of Sri Lanka Tourism.
The live streaming was not limited to Facebook and YouTube; the streaming was also shared simultaneously on leading streaming channels in the World such as Roku TV, Apple TV and Periscope to make it easier for the international audience around the world.
Mrs. Fernando thanked the Wildlife Department, Archeology Department, CCF, Civil Aviation, Defense Secretary, and the Police for their continued support to Tourism.
While COVID-19 travel restrictions resulted in cancelling travel plans and confining the world at large to their homes, Sri Lanka Tourism is taking tropical wildlife into the living rooms of travellers with the help of live streaming technique and digital media. The safari drives broadcasted from four popular National Parks of Sri Lanka let viewers have a sneak peek into the lives of majestic beasts of the paradise island without leaving their home. The show is unscripted and unpredictable, as exciting as it gets with the narrations from prominent wildlife experts explaining the events as they occur; with the ability to choose between sunrise and sunset safaris from each National Park to interact with our safari hosts and have questions answered in real-time.
Great Elephant Gathering in Minneriya and Kaudulla
After a successful live-streaming session broadcasted from Minneriya National Park, our team of videographers learnt that the elephants are moving to Kaudulla National Park with the arrival of monsoon. So along with the experts they drove to Kaudulla National Park and were immediately greeted by a bunch of Purple Faced Leaf Monkeys, considered endangered and endemic to Sri Lanka while a group of barking deer passed curious looks at the safari Jeep. A large flock of Painted Storks in the reservoir that seemed grateful for first rains of monsoon was setting the stage for the most stunning natural phenomena of Asia while a family of Chestnut Headed Bee Eaters and Brownfish Owls and some others were watching from nearby trees. As hundreds of elephants gather to manmade reservoirs in Kaudulla National Park, the viewers were given a firsthand experience to watch them playing in the water and enjoying fresh grass.
Day two in Kaudulla was as delightful with sightings of reptiles, Serpent Eagle, White Bellied Sea Eagle, Brownfish Owl and herds of Elephants walking towards the safari Jeep. Observing the behavior of female Elephants and cubs in herds mingling with solitary male Elephants up close while sitting in their couch was an amazing experience to the viewers who joined the live-streaming session from all over the world. The experts answered questions in real-time while sharing a wealth of knowledge on Wildlife of Sri Lanka including Sri Lankan Elephant endemic to the island and explained the complexity of Human-Elephant conflict as well.
Up close and personal with the residents of Udawalawa and Yala
The team will spend two days in Udawalawa National Park and another three days streaming from Yala National Park. Apart from keystone species popular among wildlife enthusiasts, these two parks are home to several other flora and fauna essential to maintain the natural balance of the island's ecosystem. Known as one of highest leopard densities in the world, Yala National Park is located in South East of Sri Lanka bordering the panoramic Indian Ocean and is home to 44 varieties of mammal and 215 bird species. With the aerial view from drone cameras and informative comments from the experts, these broadcasts too will not only be enjoyable but educational for viewers of all age groups.
My Sri Lankan Story
Partnering up with some of the leading hotel chains, Sri Lanka Tourism launched a competition for foreign viewers to win a getaway in Sri Lanka. The participants are asked to share a holiday photo from Sri Lanka on their Facebook/Instagram account with a short, creative description before 13th of November to be eligible for the giveaway. The winners will be chosen from the emails sent with screenshots of the posts to wildlifestreaming@srilanka.travel with the subject My SriLankan Story.
Upcoming Couch Safari live-streaming Times:
Udawalawe, 10th November 7.00AM (IST) + 5.30 GMT
Udawalawe, 10th November 3.00PM (IST) + 5.30 GMT
Yala, 11th November 7.00AM (IST) + 5.30 GMT
Yala, 12th November 7.00AM (IST) + 5.30 GMT
Yala, 13th November 3.00PM (IST) + 5.30 GMT
Be sure to catch the online safari drives on all eight days to experience unfolding narratives of majestic creatures in the tropical forests of Sri Lanka. Log on to https://www.srilanka.travel/wildlifestream/ to register to watch the online streams, which are also being streamed on Sri Lanka Tourism Facebook and YouTube channels.
Contact:
Public Relations Division,Sri Lanka Tourism Promotion Bureau,80, Galle Road, Colombo 03. +94 112 426 900, sureshnie@srilanka.travel