News
Pakistan NDU delegation calls on Defence Secretary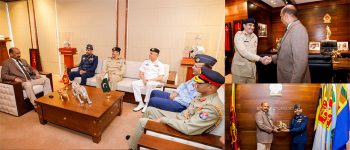 A delegation of Pakistan National Defence University (NDU) led by Air Commodore Akhtar Imran Saddozai called on the Sri Lankan Defence Secretary Gen. Kamal Gunaratne at the Defence Headquarters Complex, Sri Jayewardenepura, Kotte yesterday (June 6).
The Defence Secretary had cordial discussions with the delegation during the session.  Mementoes were also exchanged between the Defence Secretary and Air Commodore Saddozai to mark the occasion.
Military Liaison Officer of the Sri Lankan Defence Ministry Maj. Gen. Dinesh Nanayakkara and Pakistan Defence Advisor in Sri Lanka Col. Muhammad Safdar Khan were also present at the occasion.