News
Towards a violence-free life for women and girls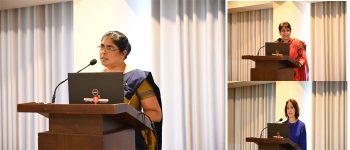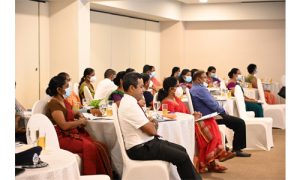 The presentation of the review findings of the implementation of the Multi-sectoral National Action Plan to address Sexual and Gender Based Violence in Sri Lanka 2016-2020 was conducted recently with the technical and financial support of the United Nations Development Programme (UNDP) in Sri Lanka along with the Ministry of Women & Child Affairs and Social Empowerment. The review highlighted the implementation of more than 62% of the key activities stipulated in the plan.
The review findings were shared with the relevant sectoral ministries and a road map to develop the new National Action Plan (NAP) to Address SGBV in Sri Lanka 2023-2027 was agreed upon with representatives of sector ministries. UNDP in Sri Lanka, along with the United Nations Population Fund (UNFPA ) will support the Ministry of Women & Child Affairs and Social Empowerment to formulate the new plan in close collaboration with more than 14 sectoral ministries, affiliated agencies and other stakeholders who work towards realizing a violence-free life for women and girls in Sri Lanka.
The NAP follows the principle of zero tolerance of sexual and gender-based violence in Sri Lanka and uses a human rights-based strategy to achieve a life free from violence for women and girls. The programmes to address sexual and gender-based violence included activities on prevention, intervention and policy advocacy.
Speaking on the topic, Mrs Nilmini Herath, Additional Secretary, Ministry of Women and Child Affairs and Social Empowerment stated, "There have been a number of SGBV cases reported in the last couple of years as families were confined to their houses due to the COVID-19 pandemic. Having identified the importance of preventing SGBV, the Ministry of Women, Child Affairs & Social Empowerment has taken many steps to formulate policies, guidelines, and circulars along with interventions to combat violence against women and girls. It is also noteworthy that the previous National Action Plan that was effective from 2016-2020 revealed that more than 62% of stipulated key activities were achieved during the time frame".
Through coordinated action between State and non-state actors, the new NAP will establish an overall policy framework to address SGBV in Sri Lanka and produce several sector-based action plans that will prevent, intervene, and develop policies on promoting zero violence.
Ms Madusha Dissanayake, Assistant Representative, UNFPA in Sri Lanka noted, "Achieving the Equality that is enshrined in Article 12 of the Sri Lankan Constitution can only be guaranteed if we all work together to prevent and respond to SGBV and find pathways to address gaps to ensure equity. I believe this endeavour embarked upon by UNDP in partnership with UNFPA to support the Ministry of Women & Child Affairs is timely and critical, especially in the post Pandemic and in the prevailing economic situation. As the Sexual & Reproductive Health Agency of the United Nations, UNFPA will provide our technical and financial assistance to develop the new NAP where robust mechanisms are incorporated for enhanced monitoring of the change we hope to see in the country, especially in order to achieve 2030 targets".
Noting the importance of the NAP, Ms Malin Herwig, Deputy Resident Representative, UNDP in Sri Lanka highlighted that, "UNDP is proud to be a partner in developing the first multi-sectoral National Action Plan in Asia. It was also a landmark plan for two reasons, it was first recognized in granting the GSP+ status for Sri Lanka, and secondly, the CEDAW Committee in its deliberations commented that this was a progressive step taken in addressing SGBV by the country. The UNDP Global Gender Equality Strategy 2022 -2025 has 'preventing and responding to gender-based violence' as a priority area and we will ensure our collaboration, technical and financial support to create a violence-free life for women, girls and other gender minorities in Sri Lanka."
A common methodology and format will be introduced to all sectoral ministries to ensure compliance with the legal and policy frameworks, both national and international, with a special focus on the 2030 Agenda.