News
Secretary Defence declares open water treatment plant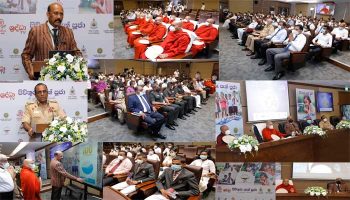 Defence Secretary Gen. Kamal Gunaratne virtually declared open the 100th Reverse Osmosis (RO) plant installed under the 'Shraddha Pivituru Pen Pooja Punya Project' at the Kimbulawala Civil Security Department (CSD) Camp premises in Medirigiriya, during a ceremony held at the Defence Headquarters Complex in Sri Jayawardenepura, Kotte on March 30.
The 'Shradda Pivituru Pen Pooja Punya Project' was inaugurated in 2014 by the combined efforts of the Mahamevna Meditation Centers, Shraddha Media Network, Civil Security Department and Kelaniya University's Faculty of Chemistry. It aims at providing safe drinking water to communities living in areas with a high prevalence of Chronic Kidney Disease.
Making a brief speech at the event, Secretary Defence praised this worthy effort and said that the armed forces had saved the nation from the clutches of terrorism and it is saddening to see the longevity of the people being cut short due to such disease.
The Chief Incumbent of Seruwila Mangala Rajamaha Viharaya and the patron of the Shraddha Media Network Ven. Aludeniya Subodhi Thero presented mementos to the Maha Sangha, Defence Secretary and other special invitees including Secretary to the Ministry of Public Security, Maj. Gen. Jagath Alwis (Retd), Director General of Civil Security Department Maj. Gen. Ranjan Lamahewage (Retd), Ranaviru Seva Authority Chairman Maj. Gen. Nandana Senadeera (Retd), former Director General of CSD Maj. Gen. VN Koswatte and Senior Prof. Priyani Paranagama, Department of Chemistry, Kelaniya University for their contribution towards the successful implementation of the project.
The RO plant project has so far benefitted over five hundred thousand people by providing more than 110 million liters of clean drinking water.