News
Travel & Tour
George alerts Sri Lanka Tourism An Investigation for Alleged Negligence by Transportation Agent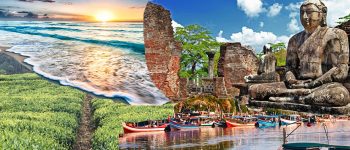 On 1st October Sri Lanka Tourism announced a relaxed, bubble free experience for international visitors who had completed COVID vaccination protocols and arriving in the destination with a negative PCR test taken prior to leaving the home country.

In response, a traveller from the United States speaks of having come to Katunayake on 7th October via Maldives and Istanbul, and claims on a YouTube video that is being circulated widely, that he arrived in Sri Lanka after conforming to all visa requirements as stipulated by our Embassy in Washington and keeping to vaccination protocols to find on arrival that the local car rental company had failed to send a representative to receive him at the airport, this has led him to venture out and stay at a hotel close to the airport and try to venture to Sri Lanka on his own, found it difficult to find alternative transport and being disappointed had left the country, in just five hours.

Sri Lanka Tourism understands and sympathises with the plight of Mr. George from the U.S.A. who found himself with no transport and no agent in Colombo, and has contacted the agent named by him and taken steps to inquire into why the said agent did not keep to his undertaking. While steps are being taken to inquire into the incident it has also to be taken note of that an incident of this nature, though very rare, can happen in the post COVID scenario of 'on off lockdowns' which most countries are operating on and in no way tarnishes the image of Sri Lanka. This is confirmed by Mr. George himself who says in the same video that he is looking forward to a visit.

The revival of the tourism industry is of utmost importance to the Sri Lankan economy and Sri Lanka Tourism understands the key role played by both the private and public sector to ensure that tourists arriving to the Island have positive and unforgettable experiences. The Authorities call on the industry to ensure that their teams are refreshed on service standards and are instilled with the importance of providing service experiences that are in keeping with expectations of all tourists, both domestic and international.

Sri Lanka Tourism is happy to announce that despite the pandemic the Island remains a top of the mind destination, and that Sri Lanka has received many positive accolades notwithstanding the border closures and no physical arrivals into the country. With the recent movement in international travel, Sri Lanka has seen an exponential interest which will result in increased arrivals, and is being aided by increased connectivity, with new airlines commencing operations and an increase in routes of existing airline partners.