News
Plans to establish a Social Intelligence Unit through the NCC to protect students from drugs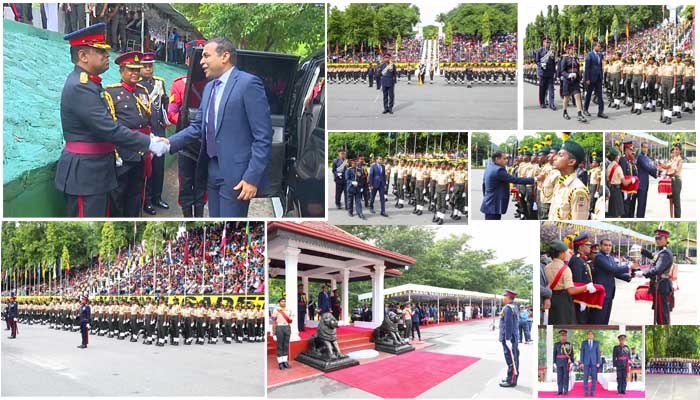 State Minister of Defence receives the salute of the annual 'Hermann Loos' Parade
Defence Secretary General Kamal Gunaratne graced as a special dignitary
The government initiated measures to establish a Social Intelligence Unit to ensure the protection and social security of the young generation through the creativity of the students and this would facilitate the students to rid themselves from the drug menace.
Efforts are also being made to popularize and promote the activities of our talented children and National Cadet Corps (NCC) Cadets through modern technical methods.
State Minister of Defence Hon. Premitha Bandara Tennakoon made these remarks at the NCC Training Centre at Rantembe while gracing the passing out parade of the NCC Hermann Loos and De Soysa Championship 2023 as the Chief Guest yesterday (Nov 02).
NCC Director Brigadier Sudantha Fonseka warmly welcomed the State Minister and the dignitaries on the arrival to the premises.
This year's Parade which was also attended by Defence Secretary General Kamal Gunaratne as a special dignitary, is the maiden annual spectacle held since the President's Colours and the Corps Colours were awarded to the NCC in 2023 this year by President Ranil Wickremasinghe recognising the national value of the National Cadet Corps.
Hermann Loos and De Soysa Trophies – 2023 were won by Colombo Ananda College Cadet Platoon and Girls' High School Kandy Cadet Platoon.
During the ceremony, the Chief Guest pinned medals on the winners of the Hermann Loos and De Soysa platoons followed by the presentation of awards to the winners.
Subsequently, State Minister Tennakoon addressed the Cadets and the audience. During the speech, the Minister emphasised the measures initiated to uplift the NCC.
During the ceremony, the State Minister also extended his special gratitude to Hon. President for spearheading the NCC for the benefit of the education sector  and amalgamating the NCC with the Education Ministry when Hon. Wickramasinghe  was the then  Minister of Education.
Minister Tennakoon also congratulated the national champions as well as other Cadet Platoons who performed admirably in the competition. Further, he thanked their parents for directing these children for NCC training activities and for being a source of continuous support for them.
Religious dignitaries including Venerable Maha Sangha, Secretary to the Ministry of Education, Additional Secretary – Civil Security and Development, Commander of the Air Force, Chief of Staff of the Navy, Military Liaison Officer of the Defence Ministry, members of the diplomatic corps, state officials, the Commandant and the training staff of the NCC Training Centre, Armed Forces and Police Officers, Provincial and Zonal Directors of Education, Principals, invitees and parents also attended the event.