News
U.S. Assistant Secretary of Defence meets SL State Minister of Defence and Secretary Defence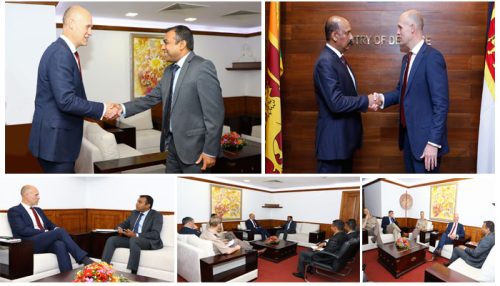 The delegation led by U.S. Principal Deputy Assistant Secretary of Defence for Indo-Pacific Security Affairs (PDASD) Jedidiah P Royal paid a courtesy call on the State Minister of Defence Hon. Premitha Bandara Tennakoon and Defence Secretary Gen. Kamal Gunaratne during two separate occasions today (Feb 16).
U.S. PDASD accompanied by Defence Attaché of the US embassy Lt. Col. Anthony Nelson on arrival at the State Ministry of Defence in Colombo was accorded a warm welcome by the State Minister of Defence.
The brief discussion held during the occasion was centred on matters of further strengthening the existing ties between the U.S. and Sri Lanka.
Assistant Defence Attaché in the U.S. Embassy Mr. Seth Nevins, U.S. South Asia Desk Officer Lt. Col. Christian Mitchell and Sri Lankan Defence Ministry's Senior Assistant Secretary (Defence) Mr. Harsha Withanarachchi were also present during the meeting.