News
Defence Secretary graces SLCG ship Commissioning Ceremony as Chief Guest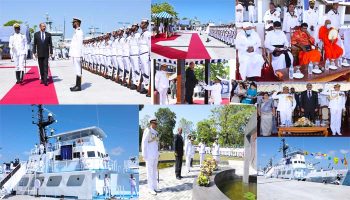 Sri Lanka Coast Guard (SLCG) commissioned its Offshore Patrol Vessel (OPV) 'SLCGS Jayesagara' at the Port City of Trincomelee, today (July 23)
The Sri Lanka Coast Guard Ship Jayesagara received its commission at the colourful Commissioning Ceremony graced by Defence Secretary Gen. Kamal Gunaratne as the Chief Guest this morning.
Director General of the Sri Lanka Coastguard and Deputy Chief of Staff of the Navy Rear Admiral Anura Ekanayake received the Chief Guest Gen. Gunaratne upon his arrival at the venue and a Guard of Honour setup by the Coastguard personnel was accorded thereafter. Chairperson of the MOD Seva Vanitha Unit Mrs. Chithrani Gunaratne was also present at the occasion.
The Defence Secretary symbolically presented the Commissioning Warrant to the ship's Commanding Officer, Commander (ND) Mahanama Thilakarathne who afterwards went on reading it loud, in keeping with the long held traditions.
Gen. Gunaratne accompanied by Navy Commander Vice Admiral Nishantha Ulugetenne and Coast Guard Director General Rear Admiral Ekanayake boarded the ship and unveiled the ship's crest and the name board amidst the blessings of the Ven. Maha Sangha and other religious dignitaries.
Gen. Gunaratne was briefed the features, amenities and operational characteristics of newly commissioned floating asset 'Jayesagara' by the Coastguard Director General during an inspection visit on board the vessel.
Rear Admiral Ekanayake presented a memento to the day's Chief Guest to mark the historic occasion. Gen. Gunaratne also presented a memento to the Coast Guard Director General.
The 39.8m long this vessel is 7m wide and has a displacement of 313 tons. The ship endures 3200 nautical miles at a cruising speed of 7 knots with a crew of 78 personnel including 10 officers.
The OPV was in Sri Lanka Navy's fleet before being handed over to the SLCG in January (03) this year. It has played a significant role during the war against terrorism.
Customarily, ships display their overall dressing during the ceremony and receive commission by a distinguished nominee of the Commander in Chief of the Armed Forces, who is also the Head of State.
The vessel has joined the Coast Guard fleet after being refurbished to suit the Coastguard's necessities and will continue to serve the nation taking up a new role.
Prior to arriving for the day's ceremony Gen. Gunaratne accompanied by Commander of the Navy placed floral tribute and paid respect to the Naval War Hero Cenotaph at the Naval Dockyard.
Members of the Maha Sangha, religious dignitaries, senior naval officers including the Commander of the Eastern Naval Area Rear Admiral Jayantha Kularathne and defence attaches of diplomatic missions were also present at the commissioning occasion.