News
Preventive measures have dealt a severe blow to drug traffickers – Defence Secretary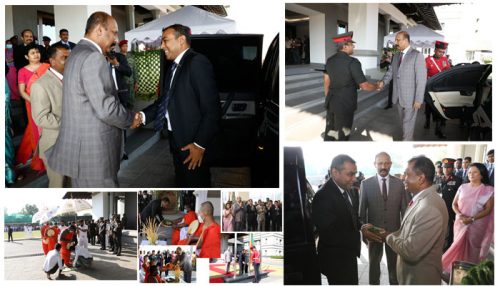 Defence Ministry ushers in the New Year giving prominence to tradition
The effective measures taken by the Ministry of Defence and its affiliated agencies in collaboration with the Sri Lanka Police against drug trafficking have dealt a heavy blow on drug smuggling operations in the country. Such preventive measures have had a huge impact on the society, said so Defence Secretary General Kamal Gunaratne while addressing the staff of the Ministry of Defence.
Expressing gratitude to the armed forces and the Police for their role in maintaining public safety and continuity of essential services during the recent social unrest he said that they provided necessary support to prevent the country from becoming politically unstable and anarchic.
Gen. Gunaratne expressed these remarks during a simple ceremony organized to usher in the dawn of 2023 and the official commencement of work in the new year at the Ministry premises today (Jan 02). The ceremony was held giving prominence to religious proceedings with the presence of State Minister of Defence Hon. Premitha Bandara Tennakoon.
Further speaking Gen. Gunaratne said that for the creation of a free and peaceful Sri Lanka and with the intervention of the Ministry of Defence and the Sri Lanka Police, operations of extremist groups, underworld gangs and such related activities have been successfully curbed.
In order to stabilize the economic and social crisis that our country is facing, with the aim of making the national development policy of the government a reality, we must make this year more productive than the previous years and properly discharge our responsibilities as public servants, he added.