News
PUCSL REACHES A 100% SUCCESS RATE IN NORTH CENTRAL PROVINCE WITH THE CONSUMER MOBILE SERVICE PROGRAM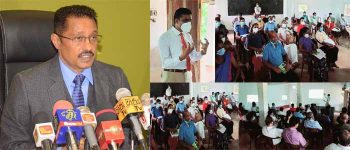 The Public Utilities Commission of Sri Lanka (PUCSL), the electricity sector regulator reached a 100 per cent success rate in solving more than 350 electricity consumer issues in North Central Province under its newly launched consumer mobile service programme.
"The Public Utilities Commission of Sri Lanka is in the view that officers should go to the public to serve them. The Consumer Mobile Service platform was created to reach the electricity consumer grievances and complaints at their ease and to solve the issues within a limited period of time with maximum service quality," Mr Janaka Ratnayake, Chairman of Public Utilities Commission of Sri Lanka said.
The Mobile Service will be held in all the 09 provinces addressing the electricity complaints of the consumers and offering them a solution or a procedure then and there, share the regulatory tools with the consumers who seek information, introduce the new services by utility providers, provide solutions for the issues concerning the way leaves which under the powers of divisional secretaries, provide new electricity connections, etc. The Ceylon Electricity Board (CEB), Lanka Electricity Company Private Limited (LECO) and the Divisional Secretariats partner with PUCSL in this endeavour.
Issues that were considered resolved are those that the consumer and licensee implementation agreed on. Accordingly, the commission provides its decision once the consumer has submitted the relevant documents and once the licensee has completed the implementation of the request. For example, in the case of name changes of an electricity account, the consumer needs to submit required documents and the licensee changes the name prior to the next billing cycle.
According to the statistics of North Central Province, the majority of the issues were related to getting a new electricity connection and change of the tariff customer. The lowest was related to electricity billing. The statistics related to North Central Province are as below;
| | |
| --- | --- |
| Case Type | |
| Way Leave | 69 |
| Change of Tariff Customer | 85 |
| Meter Related | 29 |
| New Connection | 98 |
| Quality Related | 14 |
| Billing Related | 13 |
| Other | 07 |
PUCSL plans to hold the next mobile services in the Central Province in mid-August and Uva and Sabaragamuwa in September.
PUCSL received 481 electricity complaints from January to June 2021 compared to 555 electricity complaints received for the same period 2020. PUCSL was able to facilitate 415 electricity complaints for the same period. The majority of the complaints were about the issues with regard to wayleave, billing, new connections, meter related, change of tariff customer and electricity quality related.