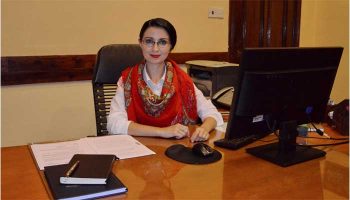 Sri Lanka and Russia are having their unique and very own cultural heritage says Madam Anastasia Khokhlova First Secretary of the Embassy of the Russian Federation in Sri Lanka, in an exclusive interview with Ceylon Digest E-magazine.
She further says that the culture of the ethnic Russian people has a long tradition of achievement in many fields. Especially when it comes to literature, folk dancing , philosophy, classical music, ballet, architecture, paintings and she goes on to say that State Heritage Museum, Saint Basil's Cathedral, Red Square were showing its rich culture to the world.
Comparing Russian culture and heritage with that of  SriLanka, Madam Anastasia emphasizes that SriLanka too got a very rich literature, beautiful Kandyan dancing and low country dancing, world famous paintings in Sigiriya and Dambulla temple, various religious ceremonies such as Kandy perahera are now famous in every corners of the world.
" Of course nowadays both cultures have developed greatly, but it could be said that both folk cultures, Russian and Sri Lankan have sprung from the original agricultural economics and way of life. This makes us close and avails people-to-people understanding at a very fundamental level", She emphasized.
Below is the full text of the interview.
Q: Madam Anastasia you are doing a commendable service with the help of Mr.Buddhappriya Ramanayaka, the Chief Executive Officer  of Russian Centre in Colombo to build up a strong cultural relationship with Sri Lanka.
A: Yes, The Russian Cultural Centre to Sri Lanka was founded in the year 1973, and since then has been contributing towards the bilateral relationship between the Russian Federation and Sri Lanka. Our organisation is directly affiliated to the Embassy of the Russian Federation in Sri Lanka.  The Russian Centre has become home to those who carry a passion in learning about all things related to Russia. As an organization dedicated towards the cultural enhancement of the society, the Russian Centre offers a bundle of opportunities to young students. It offers lessons in the fields of Russian Language, Ballet, Art, Chess, Music and Drama, creating a unique persona for each student that enters through the doors of the centre. Celebration of the young talents of students is carried out at an annual basis through award ceremonies dedicated to the Russian School of Art, Music and Ballet. Every year we offer Russian government scholarships to young talented Sri Lankan students to do their higher education in Russian state universities. Also, Centre is directing young community for youth conferences, seminars organized by the Russian government annually and helping to develop their career skills. Anybody who is interested to learn about Russia and its culture and heritage are warmly welcome to join with our "Russian Club" where we have around 200 members currently.  Apart from these activities the centre also hosts Summer and Winter Camps for children whose vacations will be spent productively. There is also a library filed with literature by Russian and various other authors, the collection at one's fingertips is massive. The regular events that celebrate special days of Russia and Sri Lanka are shared with both communities as a symbol of the strong and close-knit relationship between the two countries, and are open to the general public that believes in cultural diversity and the richness of art.
Q: In relation to this what are your plans and priorities?
A: For over four decades Russian Centre has been here in Colombo, steeped in literature, ballet, painting and classical music. Our aim is to educate the society more about the great heritage of the Russian culture as well as the longstanding history of bilateral friendship  and cooperation. We are planning to provide the local  community with more opportunities to witness and learn about Russia and especially aiming to develop relationship with youngsters and trying to improve their skills through the programs organized by Russian side.  And, we are looking forward to enable more talented Sri Lankan students to get the Russian Government scholarships for higher education in Russian State universities.
Q: As a diplomat what is your impression about Sri Lankan cultural heritage?
A: Sri Lanka is a country with a very vast and rich cultural diversity and lush natural resources. The culture is itself very unique and thereby contributes to the Sri Lankan identity. What impresses me much is that Sri Lankan culture includes a lot of customs and rituals, which date to more than 2000 years and being preserved with care and dedication, were handed down from generation to generation. The most prominent feature of the Sri Lankan culture is its colorful festivals, which is one of the main tourist attractions. From my point of view as a foreigner, religion plays an important role in molding the Sri Lankan culture and traditions. In Russia Sri Lankan culture is much associated with Buddhism. This to my mind must be one of the reasons why Sri Lankans have a great sense of humility and happiness, caring for environment and all forms of life, which is often reflected by the use of art, architecture, sculptures, traditional medicine and food.
Q: As a diplomat what are your past experiences you gathered from other countries?
A: Before coming to Sri Lanka I worked in Nepal and India. Of course I appreciate much the experience of working with people of different cultures and traditions. And it is very gratifying to see that there are people interested in Russia all over the world. Lot of Asian people are well aware about Russia and its history. It really impressed me that there are so many Sri Lankan people who are so keen about our literature. I feel like almost everyone had read a translation of a Russian novel. They know a lot about Chekhov, Gorky, Tolstoy, and also Gagarin, Tereshkova. And of course I am also enjoying learning and discovering about other countries' treasures.
Q: Russian Ballet dancing is one of the greatest cultural assets Russia has presented to the world. In order to build up a strong relationship between our two countries why don't you bring a ballet troupe to Sri Lanka in the near future?
A: The Russian Centre in Colombo had a very successful event Russian Classical Ballet in Colombo with the participation of Russian Chamber Ballet Troupe, uniting dancers from top Russian theatres under the patronage and direction by Natalia Permyakova in year 2018 at the Nelum Pokuna theatre. Of course we are planning to invite another ballet group to Sri Lanka in near future.
Q: What are your suggestions to Sri Lanka authorities to improve and safeguard the Sri Lankan cultural heritage?  
A: Sri Lanka has an amazingly high number of World Heritage Sites. It is common responsibility to save them for future generations. I think educating more about country's cultural heritage and values of them among people, especially among school children, university students is something which is really needed to develop the understanding and contribute into future preserving the rich cultural heritage of Sri Lanka as well as of the world at large.