Top News
SL should tap the potential of attracting tourist migrants through 'Sri Lanka – My Second Home' initiative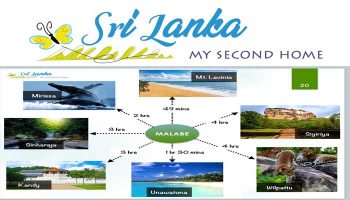 Commendable efforts by Sri Lanka's tourism authorities to promote and attract more tourist traffic to the country continue in the face of indomitable challenges as a result of the Covid-19 ground situation.
The pandemic has emerged as the major obstacle towards promoting tourism anywhere in the world. Experts envisage that for the next two to three years, no significant changes can be expected in the ground situation in terms of the prevalence of the virus.
The lack of acceptance of immunity boosting vaccines has, to a considerable degree, impeded efforts to tide over the world's worst health emergency in living memory. This development is expected to aggravate the situation and force people to come to terms with the 'new normal' for a longer period of time than anticipated, according to the experts.
Apprehensions towards the jab developed following reports of multiple cases of heavy side effects in patients' just days after being inoculated.
However, a few countries such as the UAE, Sweden, South Africa and some South American nations have largely relaxed their stringent measures to restrict public life, thereby enabling foreign tourists to enjoy a holiday.
Sri Lanka Tourism Development Authority (SLTDA) records show that in January 2021 only 1,682 tourists arrived in Sri Lanka, whereas during the corresponding month in 2020, 228,434 international tourists spent their holidays in the country. This translated into a sharp 99.3% decline in arrivals in relation to the two months under review.
The steadily increasing migration patterns of Northern European populations to South Asian regions, typically motivated by social and economic factors and the search for a better climate and a better quality of life, can be viewed as a good opportunity for Sri Lanka's tourism. The trend to take up semi-permanent residence in another country has further increased with the economic problems in Europe and other countries. Sri Lanka could embark on catering to these tourist migrants by offering a viable "Sri Lanka – My Second Home" solution.
The Sri Lanka government already has put in place an attractive Residence Visa package under the program "Sri Lanka – my Dream Home", which permit applicants in the 55+ age group to stay in Sri Lanka on a long-term renewable Residence visa basis as tourist migrants.
Sri Lanka's private sector has gradually realized the great potential in moving into a permanent Tourism Program for foreigners above 55 years with ventures to build apartments and condominiums tailor-made to cater to the needs of these expatriates
The additional advantages of relative low living costs, mild climatic conditions, English-speaking and welcoming natives are plus points for the visitors, apart from a rich fauna and flora with fascinating sites of cultural and historical importance across the country.
Another plus point in Permanent Tourism relates to a one-time only marketing effort for the sale of apartments while traditional marketing to boost the hospitality sector in general demands frequent visits for promotional activities and tourism fairs overseas on an annual basis at substantial cost. Some of these marketing efforts, more often, fail to produce the desired results or bring the expected rewards.
'Permanent tourism' refers to the state of being more settled, and denote a longer-term commitment to the destination, whereas 'tourist' has connotations of a more temporary movement from everyday life to a different location. Second home ownership of an apartment does include marketing to attract more visitors to Sri Lanka, as the owners look out for more revenue through renting their own apartments to third parties.
The time is now opportune for the SLTDA to explore new avenues and new vistas to give Sri Lanka's struggling tourism industry an impetus.
– Dr. Dietmar Doering