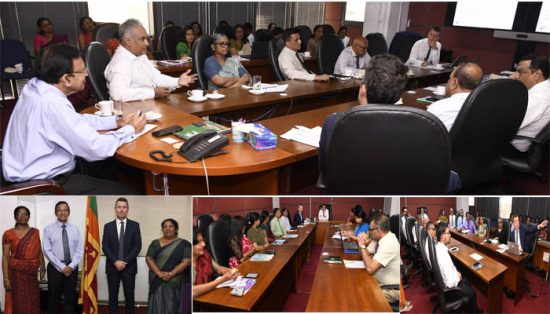 In a significant move towards economic advancement, Sri Lanka has initiated the process of revitalizing its existing Export Strategic Plan (National Export Strategy 2018-2022). The endeavor, spearheaded by the Sri Lanka Export Development Board (EDB) in collaboration with the Ministry of Investment Promotion, has obtained technical support from the International Trade Center (ITC) based in Geneva. Mr. Charles Roberge, Senior Officer, Trade Strategy and competitiveness, ITC visited Sri Lanka from October 16th to October 18th on this purpose. During the visit, the ITC expert had the opportunity to meet the representatives of Associations, Chambers, Advisory Committees and policy makers of the Government.
The foundation for the existing National Export Strategy was laid in 2017 when six pivotal sectors—Information Technology, processed Food and Beverages, Electrical and Electronic products, Boat building, Wellness tourism, Spices & Concentrates, were identified for development. This strategic blueprint, which facilitated the strengthening of emerging manufacturing and service sectors, also aimed at diversifying exports and ensuring the sustainability of mature manufacturing sectors. Implemented as a national policy for the period 2018-2022, it marked a crucial milestone in Sri Lanka's economic landscape.
Building on this legacy, the current initiative focuses on revitalizing the existing National Export Strategy to align it with contemporary market challenges and harness emerging opportunities while fast tracking game changer activities to revitalize the development process of the country as a trade and investment hub. It will be the road map for export growth, and thus it must be executed with the fullest commitment of all implementing agencies.