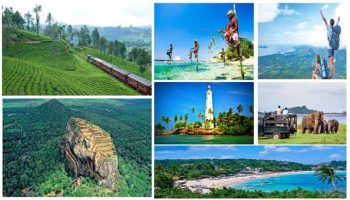 Sri Lanka is witnessing a surge in tourist arrivals since it relaxed travel restrictions for fully-vaccinated tourists last month. One of the most promising markets with the potential to become a key source market for Sri Lanka is Poland, more so, as LOT Polish Airlines is resuming twice weekly direct flights to Sri Lanka from 7 December until the end of the winter season. Polish travelers seek tropical destinations under the sun to escape the height of winter – and Sri Lanka is widely expected to be their first choice in December 2021 due to the easy accessibility with direct flights. This was apparent in previous years, when over 20,000 Polish tourists visited Sri Lanka in large numbers in 2018 and 2019 on direct flights. However, the numbers declined in the next two years due to the pandemic. In 2018 and 2019, Sri Lanka attracted over 20,000 Polish tourists per annum.  LOT Polish has joined hands with Rainbow, one of the top three Polish tour operators, in order to promote Sri Lanka strongly as the premier destination for Polish and other European visitors in Asia. Direct air connectivity is imperative to develop trade and tourism between two nations and to this end Sri Lanka Tourism is identifying source markets to improve connectivity from where more tourist numbers could be generated.


 Sri Lanka Tourism recognizes that a strategically managed tourism sector supports the local economy, is a prelude to prosperity and enhancing the quality of life while ensuring greater inclusivity, sustainability, diversity and a more progressive society. Sri Lanka has been highlighted globally for one of the fastest vaccinations drives in the world with close to 55% of local population being fully vaccinated and 67% of our population have had at least one dose of the vaccine. The high vaccine rate amongst the general population including the tourism industry has created a sense of security for travelers and arrivals are already seeing an uptick. These statistics have enabled Sri Lanka to move off the UK Red List along with receiving clearance from many other countries for travel.
Creating further excitement around the destination, Sri Lanka has been in the spotlight in prominent international media and received some excellent international coverage on CNN Travel, BBC, The Guardian, The Times, Lonely Planet, Vogue, The Telegraph, National Geographic and Washington Post to name a few. Further, Sri Lanka was recently voted as one of the best countries to travel to by the Conde Nast Traveler Readers poll which is an amazing positioning for the destination.
Sri Lanka is on the quest to attract the high yielding experiential traveler and accolades such as the one by Conde Nast further strengthens this positioning. Sri Lanka Tourism is at the forefront of global industry events, being pitched strongly at WTM London (World Travel Market) and the World Routes Forum to highlight Sri Lanka's diverse tourism offering and to announce to the world that Sri Lanka is open for business.