Hotels
Travel & Tour
The 2nd edition of Raid Amazones kicks off in style with another 214 participants ready to face the challenge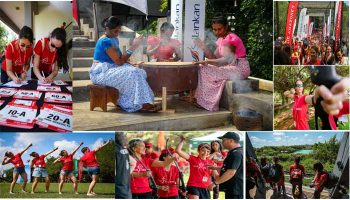 The much awaited second stage of the famous Raid Amazones 2022 Adventure challenge kicked off another 214 participants arriving at the Bandaranayake International Airport with214 ladies who will discover the roads less traveled around Sri Lanka   by Bike & run, and Canoeing. ️The second stage will be held from 28th March to 6th April 2022 in the majestic and iconic landmark of Sigiriya. The second stage will include Trail running, canoeing, Bike & Run, the escape game, where they will look for clues and answer questions in specific locations. Also mountain biking and trail running on the final day. The new batch of participants for the second stage were given a warm welcome at the BIA and then afterwards were transferred to the Aliya Spa & Resort, Sigiriya , where they were treated to an interesting reception of traditional cultural entertainment including  a traditional Raban performance and dancing , with the best of Sri Lankan hospitality.
The second day was reserved for Medical and Equipment checking, where the participants signed themselves up for registration, and check their gear and equipment prior to the event, such as canoeing and archery. They were also mesmerized by the beautiful surroundings of Sigiriya and the interesting geographical backdrop.
600 participants are talking part in this adventure tournament which is held in two stages, where the first stage took place from 13 – 23, March 2022 while the second stage is scheduled from 28 March – 6 April 2022.  An international media crew has joined the Raid Amazones team especially for this purpose to give a full coverage of the events taking place.Raid Amazones is the largest sports Tourism  event to be held in Sri Lanka after the Covid 19 Pandemic . It is anticipated through events such as these, the positive message that ''Sri Lanka is a safe destination to travel '' will be spread across the world. The Raid Amazones originates from France where it is an all-female challenge who compete their way through a range of challenges such as orienteering, mountain biking, canoeing, riding, running and archery typically against the backdrop of an exotic tourist destination. Therefore, the contest not only allows participants to put their skills to test but discover the unique landscape, people and culture of a given host country.
This year's event pays homage to Sri Lanka and its iconic Sigiriya rock fortress, the surrounding areas of which will play backdrop to the event. Sri Lankan Airlines emerges as the official Airline partner for Raid Amazones 2022, and have also dedicated a special Aircraft with artwork highlighting Sigirya, the thematic icon of this year's edition. Raid Amazones 2022 emerges as a collaborative effort of several local partners including Sri Lankan Airlines, Connaissance De Ceylan , Theme Resorts , and Sri Lanka Tourism Promotion Bureau.