News
The inauguration ceremony of the "6th International Conference on Medicinal Plants, Herbal Products & Hydroponics (ICMPHP6)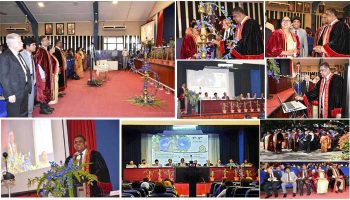 The 6th International Conference on Medicinal Plants, Herbal Products & Hydroponics (ICMPHP6) hosted by ERA, facilitated by RCFC-NR-I, NMPB, Ministry AYUSH, Govt. of India and Co-Host by Institute of Indigenous Medicine (IIM) & Department of Plant Sciences, Faculty of Science, University of Colombo, Sri Lanka, Industrial Technology Institute (ITI), Colombo, Sri Lanka, Prince of Songkla University (PSU), Thailand, Universitas Abdurrab, Indonesia in Collaboration with Department of Botany Sri Venkateswara University, Tirupati, India, University of Bengkulu, Indonesia; with the Industrial collaboration of Urban Kisaan, Hyderabad was held on the 7th of October 2022 at the Auditorium of the Institute of Indigenous Medicine (IIM) University of Colombo.
Professor Priyani A Paranagama, Director of the Institute of Indigenous Medicine, and conference Co-Chairperson welcomed the gathering and Professor Sudarsanam Gudivada, Chairman of ICMPHP6 addressed the gathering and explained the "Importance of the conference & Medicinal plants and Hydroponics. The Chief Guest, Senior Professor (Chair) H.D. Karunaratne, The Vice Chancellor of University of Colombo, addressed the gathering and emphasized the importance of organizing an international conference and the use of indigenous plants, indigenous knowledge, and Ayurvedic Knowledge at the international level. He further stated that the universities of India, Sri Lanka and Pakistan should work together to find unexplored knowledge of traditional medicines. The Vice Chancellor called this the era of Asia particularly South Asia and stressed the need to find a global market for these new findings.
Professor Susi Endrini, Rector, University of Abdurrab, Indonesia, Dr Arun Chandan, the Secretary-General ICMPHP6, Professor K.P. Hewagamage, the Chairperson of the Annual Research Symposium (ARS) 2022 of the University of Colombo and Dr G. A. S. Premakumara, Chairman of the Industrial Technology Institute (ITI), Dr Aruna Weerasooriya, Professor Montira Leelakriangsak, the organizing Secretary (Thailand) and many invitees also participated in the ceremony. All the dignitaries participated in the launching of electronic versions of the proceedings and Professor Pathirage Kamal Perera, the Secretary of ICMPHP6 proposed the formal Vote of Thanks.