Travel & Tour
𝗦𝗿𝗶 𝗟𝗮𝗻𝗸𝗮 𝗧𝗮𝗸𝗲𝘀 𝗖𝗲𝗻𝘁𝗿𝗲 𝗦𝘁𝗮𝗴𝗲 𝗮𝘁 𝘁𝗵𝗲 𝗘𝗺𝗯𝗮𝘀𝘀𝘆 𝗙𝗲𝘀𝘁𝗶𝘃𝗮𝗹 𝟮𝟬𝟮𝟯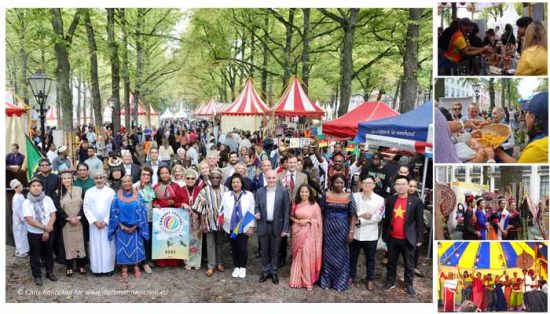 Sri Lanka once again showed its full potential as a world renowned travel destination at the Embassy Festival 2023, held in the Beautiful city of Hague, Netherlands. Sri Lanka Tourism Promotion Bureau in collaboration with the Sri Lanka Embassy in the Netherlands, made this participation a success by creating an attractive Sri Lanka Pavilion which was definitely a crowd pleaser. The Sri Lanka pavilion was a major attraction and one of the most popular stalls at the event, where it had the opportunity to showcase its rich and vibrant culture, delectable cuisine, and warm hospitality to more than 50,000 international visitors. They were simply amazed by the warm hospitality and the various travel opportunities the paradise Island had to offer. Sri Lanka Tourism took the maximum advantage of this opportunity to highlight Sri Lanka as a compact destination which is blessed with all the natural resources, picturesque locations and sunny beaches, including the best of Ayurveda and traditional Sri Lankan cuisine to tantalize your taste buds. The embassy Festival created colorful atmosphere as it brought together all the nations across the world with their respective cultures.
The event was a sensory delight as the air was filled with the tantalizing aroma of Sri Lankan spices and teas, accompanied by the enchanting sounds of traditional music and dance, all wrapped in the genuine warmth of Sri Lankan hospitality. Our very own Sri Lankan culinary artisans worked their magical hands, whipping up mouthwatering dishes that included spicy Koththu, crispy hoppers, and the famous Polos cutlet and Parippu wade, leaving festival goers craving for more.
The mesmerizing Sri Lankan dance and music with its unique artistic and traditional style, throughout the whole event added more color and excitement to the Sri Lanka pavilion, offering visitors a unique experience to explore the breathtaking beauty of this Island and its people, renowned across the whole world for their warm smile.
The Sri Lanka Tourism Promotion Bureau, together with the Sri Lanka Embassy in the Netherlands wishes to thank all those who visited the Sri Lanka Pavilion, indulged in the Unique Sri Lankan food and shared in the joy of the vibrant culture of Sri Lanka. The smiles, curiosity, and the active engagement of the guests truly brought the Sri Lankan pavilion to life. This amazing Sri Lankan wonder was made possible with the tireless efforts of the SLTPB, Sri Lankan Embassy staff and the dedicated team of volunteers.
The Embassy Festival 2023 served as a bridge between cultures, fostering connections, and effectively showcasing the beauty of Sri Lanka to the world. Up to the month of September 2023, Sri Lanka received 2,391 tourist arrivals from the Netherlands, which was a considerable change compared with the same period in 2022. Netherlands can be a crucial market for Sri Lanka Tourism, given the necessary recognition and especially since it has a historical connection with Sri Lanka as well.