News
Army Commander meets Defence Secretary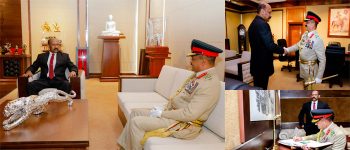 The newly appointed Commander of the Sri Lanka Army Lt. Gen. Vikum Liyanage paid a courtesy call on the Defence Secretary Gen. Kamal Gunaratne at the Defence Headquarters Complex, Sri Jayewardenepura, Kotte yesterday (June 02).
Following a warm reception, the Defence Secretary extended compliments to Lt. Gen. Liyanage for his new appointment and a cordial discussion was held between the two high officials on matters of mutual relevance.
Signifying the occasion, the Defence Secretary and the Army Commander exchanged mementoes.
Lt. Gen. Liyanage assumed duties as the 24th Commander of the Army yesterday (June 1) during a formal ceremony held at the Army Headquarters.