Top News
Defence Secretary awards 'ARFRO Masterminds' winners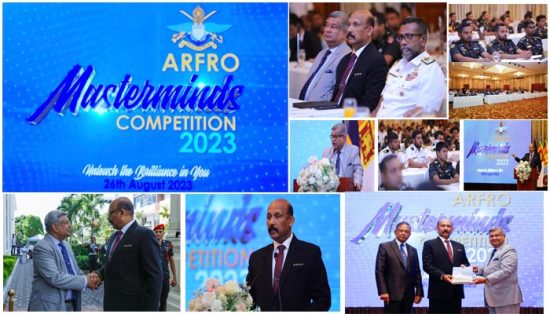 "Real victory lies in the pursuit of knowledge" – Defence Secretary
Defence Secretary General Kamal Gunaratne graced the 'Association of Retired Flag Rank Officers' (ARFRO)-organized 'Masterminds Competition-2023', as the Chief Guest, at the Golden Rose Hotel in Boralesgamuwa on Saturday (Aug 26).
The incumbent President of the ARFRO Air Chief Marshal Gagan Bulathsinghala (Retd) warmly received the Defence Secretary on his arrival at the venue.
In keeping with the schedule 86 (3-member) teams comprised of Tri-Forces officers competed in the 'Retired Flag Rank Officer' Masterminds Competition-2023' (ARFROMC-2023) which was conducted in several stages.
Chief Guest of the day Gen. Gunaratne stating that this year's competition focuses on the middle manager category of the military, while addressing the gathering also stressed that, "Real victory lies in the pursuit of knowledge and the bonds we forge along the way".
"I encourage you to approach these questions not just as a test of knowledge, but as an opportunity to learn, collaborate, and grow together", he also stated while encouraging the contestants.
During the session, 60 teams from the Army, 20 from the Navy, 05 representing the Air Force including a team of KDU contested which was designed to improve their general knowledge on military affairs, social issues, current global trends and the practice of reading at leisure.
Ensuing the session, Gen. Gunaratne awarded medals, trophies, and cash prizes to the winners. Accordingly, the Regimental Headquarters Team of the Gajaba Regiment, earning the highest number of points, awarded the champions cash prize worth of Rs 100,000.00. A Navy team representing the South Eastern Naval Command secured the 1st runner-up while Army's Signal Corps selecting as the 2nd Runner-up receiving Rs 60,000.00 and 40,000.00 prizes respectively.
ARFRO in Sri Lanka came into being in 1996, an organisation of senior retired military officers who are collectively referred to as 'Flag Rank Officers'. Flag Rank officers, who have held senior positions in Tri-Forces with wealth of experience and expertise into military affairs, will no doubt be of great value to the military generation grooming to take up future challenges.
Navy Commander Vice Admiral Priyantha Perera, members of the ARFRO Executive Committee, Head of the Steering Committee members Maj. Gen. Upul Perera (Retd), Steering Committee members of the ARFROMC-2023 and senior military officers were present among the distinguished invitees.