News
Deputy High Commissioner of India pays farewell call on State Minister of Defence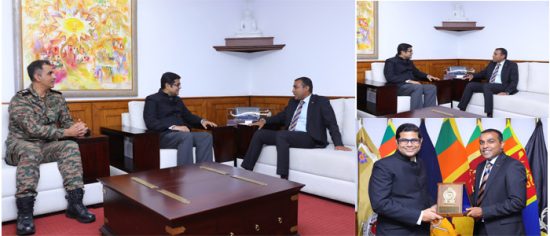 Deputy High Commissioner of the Indian High Commission in Colombo Vinod Kurian Jacob paid a farewell call on the State Minister of Defence, Hon. Pramitha Bandara Thennakoon at the State Minister's Office 18th of July.
The State Minister extended a warm welcome to the Indian Deputy High Commissioner and later had a cordial discussion with him.
The outgoing Indian diplomat conveyed his gratitude to the State Minister for his cooperation and assistance in maintaining the existing cordial bilateral military diplomacy.
During the occasion, State Minister presented a memento to the outgoing Deputy High Commissioner of India.
Assistant Defence Advisor of the Indian HC Lt. Col. Puneet Sushil was also present at the occasion.