Travel & Tour
Developing cultural and historical ties between India and Sri Lanka through the "Murugan Trail"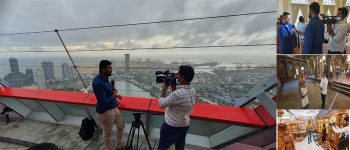 Sri Lanka was further able to strengthen its cultural and historical friendship with its Indian counterparts by organizing the first ever ''Murugan Trail '' from South India, which was a Media FAM Tour organized by the Sri Lanka Tourism Promotion Bureau, in collaboration with the Sri Lanka Deputy High commission in Chennai, from 3rd to 13th August 2022. This was seen as a good initiative as the country is recovering slowly from its economic crisis, where the Tourism sector also suffered a considerable setback, with several countries issuing travel advisories. Sri Lanka Tourism is back on track with the hope of bringing one million tourists this year, where tourist arrivals are on the rise with the gradual relaxation of travel advisories at the same time. India has been exceptionally helpful towards its neighbor during this crucial period, by bringing the most number of tourist arrivals to the destination, recorded as 74,792 for the month of July 2022.
The main purpose of organizing this FAM Tour was to promote the ''Murugan Trail'' to South Indian tourists, who have a deep connection with Lord Murugan and the festivals as Hindu devotees. Nallur festival in Jaffna and Kataragama Esala Festival are held annually to pay homage to Lord Murugan.  Nallur Kandaswamy Kovil or Nallur Murugan Kovil is one of the of the most significant Hindu temples in the Nallur, Jaffna. The Nallur Festival in Jaffna in August is the island's longest festival. Spanning 25 days of vibrant chariot processions, drumming, dancing and acts of self-mortification, held in honor of the war god Skanda.
Kataragama temple is mostly worshipped by Sinhalese and Hindu devotees. Kataragama plays a very pivotal role as it is a religious place of worship by both Sri Lankans and South Indians alike. Murugan, is the Hindu god of war, the son of Parvati and Shiva, the brother of Ganesha and a god whose legends have many versions in Hinduism. Skanda has been an important deity in the Indian subcontinent since ancient times, worshipped as Mahasena and Kumara in North India and is and predominantly worshipped in the state of Tamil Nadu and other parts of South India, Sri Lanka, Singapore, and Malaysia as Murugan. He is also known as the God of the Tamil people''. Therefore, the Kataragama Esala Festival is also a crucial part of the Murugan Trail.
In this regard, the Kataragama Esala Festival is a crucial celebration where Kataragama temple is dedicated to lord Murugan and   is also known as ''Skandha'' who is known among the Sinhalese as the "Kataragama Deviyo". The Kataragama Esala Festival also holds an important place in the ''Murugan Trail '' because of its historic connection. Due to this reason, many South Indians come to Sri Lanka as Pilgrims to worship. The origin of Tamil people comes from South India, therefore these communities have strong cultural and religious similarities.
The ''Murugan Trail '' includes mainly around 10 places of worship from the north to the south of Sri Lanka including Jaffna Nallur Kandaswamy kovil and Kataragama Murugan temple. In addition, Lord Shiva is worshiped as one of the main Gods of the community of South India.
Seeing the importance of this subject, Sri Lanka Tourism invited these South Indian media personnel to experience the various religious sites and festivals in Sri Lanka and to share the experiences with their respective audiences.
The media delegation consisted of electronic, print and social media, including Media houses such as News 7 Tamil Alliance Broadcasting, News18 Tamilnadu, TV 9 Telugu, The Hindu,Behindwoods, Ananda Vikatan and Sakthi Vikatan, and Madura digital. Each of these Media houses are renowned in South India and have millions of followers with a significant viewership.
The tour covered four parts of the island including the central highlands, and the Media personnel had the opportunity to visit Five celebrated coastal ancient lord Shiva kovils across the island, including Munneswaram, ThiruKeetheeshwaram kovil, Naguleswaram kovil, Thirukoneswaram  kovil, and Thondeshwaram  kovil . This also includes the Sakthi Amman kovil , Hanuman temple and Seetha Amman temple. They were also able to give coverage to three major festivals along with Nallur Murugan Festival, Kandy Esala perahera and Kataragama Esala Festival. This was a rare experience for them as they visited each place with high enthusiasm and interest. Their interest suggested a good promotional opportunity for Sri Lanka as they were keen to promote each of the sites they visited to their audiences. The media group travelled from Colombo to Point Pedro (North) and to Dondra (South) covering all major tourist attractions included in the Murugan Trail.  The journalists were able to do live broadcasts of each location they visited, specifically the Kataragama Esala Festival, and as a result, Sri Lanka got a huge publicity among the South Indian audiences through their promotion.
During their stay in Sri Lanka local hospitality was provided by Red Apple Travel & Holidays Lanka (Pvt) Ltd., Taj Samudra Colombo, Fox Resort Jaffna, North Gate by Jetwing, Trinco Blu by Cinnamon, Jetwing Lake – Dambulla, Heritance Kandalama, Theva Residency – Kandy, Radisson Hotel – Kandy, Jetwing St. Andrews – Nuwara Eliya, and Elephant Reach Hotel – Tissamaharama. The familiarization tour was also supported by various government organizations, private sector stakeholders and Board of Trustee of all the Hindu and Buddhist temples which they visited.
As up to the month of July 2022, tourist arrivals from India were reported as 74,792 and showing             a considerable growth compared with the same period of 2021. Sri Lanka is keeping up hopes for a better tourist season with these arrivals and targeting mostly Indian visitors as both nations share the same cultural and historic backgrounds, contributing a great deal in its progress in rejuvenating the Tourism Industry. Thus this FAM Tour could be seen as a positive step forward in promoting Sri Lanka as one of the most unique travel destinations in the world.