News
International E-Waste Day ( 14th October) "Recycle it all, no matter how small"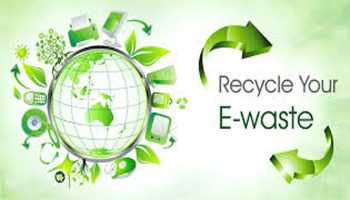 The International E waste Day was commemorated on 14th of October.  Waste Electrical and Electronic Equipment (WEEE) is known as e waste. This day was initiated by WEEE Forum           (a Brussels-based association representing 43 producer responsibility organizations worldwide) in 2018, to create awareness and promote recycling of e waste.
E waste is generated from a range of e electrical and electronic equipment like computers, mobile phones, lighting equipment, toys, fridges, washing machines, electric cookers, medical equipment etc.
The theme of this year is "Recycle it all, no matter how small" This encourages to recycle small electronic item waste stored in homes and in waste bins. As per the United Nations, in the year 2019 around 22 million tons of small electronic waste items have been generated where this is 40% of the total e waste generated. It is predicted that by 2030 this amount will increase up to 29 million tons.
According to the United Nations it is estimated that  around 50 million MT of e waste is generated per year. Out of which only 17.4 per cent of this electronic waste containing a mixture of harmful substances and precious material is recycled.
The amount of electronic and electrical waste collected between 2010 and 2016 in Sri Lanka was about 92,000 metric tons. It is estimated that, the current generation of around 25,000 metric tons of e waste will grow by 10,000 metric tons per annum, and then by 2030 the annul electrical and electronic waste generation will be around 43, 000 metric tons.
E waste consists of precious metals like gold, silver, platinum and toxic metals like arsenic, mercury, cadmium  and lead. Therefore E waste should be recycled to recover metals and other possible components, and dispose the rest safely as hazardous waste.
E waste should not be burnt or buried.  Burning causes air pollution, and burying can contaminate the ground water sources and the soil. Many toxic metals in e waste can cause cancers, neurological and developmental disorders, e waste burning and burrying has to be discouraged at all times.
Central Environmental Authority organizes e waste drop off events, to collect e waste and declare e waste collection weeks to collect e waste. In addition action has been taken to ban importation of used / discarded electronic equipment, in order to minimize generation of electronic waste within the country.

A facility is being established at present by the private sector, where e waste recycling will be carried out in Sri Lanka in future. At present, there are 14 private organizations registered under Central Environmental Authority, who collect e waste island wide and export to other countries for recycling.
In addition the Central Environmental Authority organizes e waste drop off events, to collect e waste and declare e waste collection weeks to collect e waste.
An e waste collection event was organized at the Ministry of Environment, Central Environmental Authority and the Provincial Council to commemorate the International E Waste Day.

Collect Your e waste safely and hand them over to e waste collectors for recycling, Do not burn or burry e waste or throw them in to marshes, and water ways. Recycling of e waste will safeguard the environment and our health.
"Lets Join Hands to Recycle Our Electrical and Electronic Waste"
Sujeewa Fernando
Assistant Director (Environment Pollution Control & Chemical Management)
Ministry of Environment