Top News
Interview with top military media personality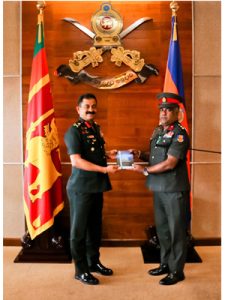 In an Exclusive interview Ceylon Digest had with on the launching of his new book- STORY OF THE WORLD: Geopolitical Alliances and Rivalries Set in  Stone Colonel Nalin Herath Director Media, Ministry of Defence said: "My motive of writing this book was to give a message to the society". He further said: "One of the fundamentals I believe is that there is no value until unless we share our knowledge with the society.  Go teach.  You  have to learn twice."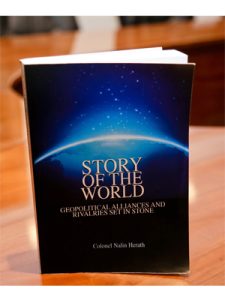 Q:        How do you describe your family ?
A:        I have got two daughters, the elder one is at KDU-Medical Faculty to become an Army Doctor. The younger one is studying for A/L at Anula Vidyalaya, Nugegoda. My spouse is an Account Executive at Sasakawa Foundation, Kolpetty.
Q:        What is your experience in the short-term period you attended the UN mission? How can the UN mission helps Sri Lanka?
A:         I went to Morocco, Western Sahara UN Mission as a Military Observer for one year in 2014. Later, I was handpicked by the mission Chief of Staff to become his Military Assistant. (MA to COS) My dedication and commitment was highly commended by the Force Commander and COS of MINURSO
Q:         What are the words  would people close to you use to describe you?
A:        A walking Encyclopedia…….
Q:         What is the question people ask you often?
A:        Many ask about academic and professional guidance. Guidance is important for those in need for them to be the best, to refine their personality. I give them advice on how to manage and deal with their issues.
Q:         Who is your hero in the military field?
A:        Field Marshal Qrwin Roomel (German) and Lt Gen Denzel Kobbekaduwa
Q:         What do you consider your greatest accomplishment?
A:        Being blessed with far great loving daughters.
Q:         How do you deal with failure?
A:        Generally, failures are unpleasant but it is a normal part of life that is integral for success. It can come in different forms.  I have failed many times in my personal and professional careers, but I never give up and I learn from failures.
Q:         Who are the three people close to you in your life?
A:        My pillars of strength are family members and as well as my friend Raja Kanaka who is in Canada.
Q:         What do you do in your free time?
A:        I read, watch movies and spend time with the family. They are a great way to spend time. Being with my family strengthens bonds, promotes family togetherness and builds tradition.
Q:       What is your favorite place you've visited?
A:        Bali, Indonesia is the favorite place I visited.
Q:       What do you think is the most significant issue facing present day society?
A:        I feel people to people communication has disrupted. Many have addicted to social media and it has badly affiliated for human relationships.
What do you offer your friends when they face personal challenges?
A:        I provide reasonable advise for them in order to cope with challenges they face. Many approach me and seek for my opinion, hence, I have been able to earn a sound credibility.
Q:       How do you manage your stressful situations?
A:        I recognize  initially my physiological signs of stress (irritation, sign of anger, uneasiness etc.) and  try work to alleviate them with counteract stressful situations. So, When I am in stress, I adopt different strategies such as jogging, watching movies and listening to music.
Q:        Can you recall the happiest time of your life?
A:        My happiest moment is my wedding day.
Q:        What is one type of comment you'd never make to another person?
A:        I never say 'You can't do this' I love to hear, 'that's because of you I did this'.
Q:       Do you like to meet new people at social gatherings?
A:        Yes, I love to expand my network. Gathering is a good opportunity to expand our social network.
Q:       What do you consider to be the steps that should be taken when deciding an important situations?
A:        Proper  analysis of the situation is important. It is important to collect some pertinent information and assessing alternative resolutions before making a decision.