News
Service of the Met. Department is critical for food security – State Minster of Defence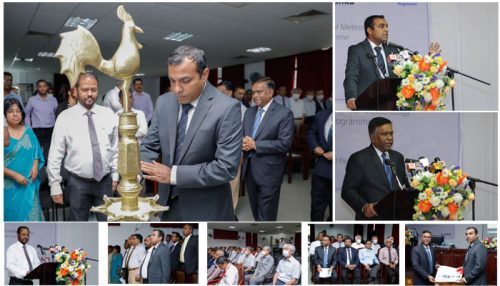 The service of the Department of Meteorology is much critical for the food security of the country which is a major concern for the government of Sri Lanka today, said the State Minister of Defence, Hon. Premitha Bandara Tennakoon.
Mentioning the need of weather and climate information and its forecasts he said such information will ultimately improve the country's economic situation by increasing the productivity of the sectors including agriculture, water, health and electricity, as well as the protection of public and property.
State Minister Tennakoon expressed these remarks while addressing a distinguished gathering as the 'Chief Guest' during a ceremony organized to present a 'Multi-Tasking Server' to the Department of Meteorology by the 'World Food Programme' (WFP) to symbolize the collaboration maintained with the Sri Lanka Met. Department.
Director General of Meteorology, Athula Karunanayaka delivered the welcome address at the outset of the programme and Director Research and Climate Change ARP Warnasooriya presented the contributions of the WFP during the session.
Appreciating the much valued timely support extended by the WFP, State Minister Tennakoon went on saying that this would improve the Disaster Management sector and related institutions further stating "We are extremely happy as the WFP has begun its next programme cycle for another five years until 2027".
Country Representative of WFP in Sri Lanka Abdur Rahim Siddiqui expressing his views during the programme said that the WFP has long history of cooperation with Sri Lanka and that its engagement has widened.
Additional Secretary to the President Dr. Sulakshan Jayawardene, Director General of the Disaster Management Centre Maj. Gen. Sudantha Ranasinghe (Retd), Senior Assistant Secretary of the Ministry of Defence Harsha Withanarachchi, senior Met. Department officials and WFP representatives were also present at the occasion.