Travel & Tour
SLAAR to join hands with CAA to restart Aviation Industry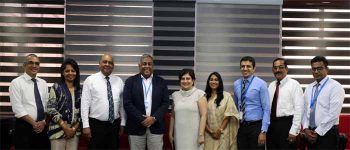 The Executive Committee members of Sri Lanka Association of Airlines Representatives (SLAAR) called on the Director General of Civil Aviation & Chief Executive Officer Capt. Themiya Abeywickrama on 06th July 2020 at the Civil Aviation Authority of Sri Lanka.
They discussed the current and future airline operations in Sri Lanka and the Officials exchanged their views with DGCA. DGCA appreciated the commitment of local representatives towards the betterment of the aviation industry of Sri Lanka. SLAAR, is an association that represents over 30 foreign airlines in the Country.
Mr. Gerard Victoria, President of SLAAR represented the association along with his office bearers Ms. Dushy Jayaweera, Ms. Thanuja Lankathilake, Mr. Eustace Silva, Mr Gyan Amerasinghe and Ms. Parveen Dassenaike.
Mr. P A Jayakantha, Deputy Director General (Aviation Security Regulation), Mr. Rayhan Wanniappa, Director (Air Transport & Economic Regulation), Mr. Ishara Gunawardena, Manager (Air Services & Traffic Rights) from the CAASL were present at this meeting.