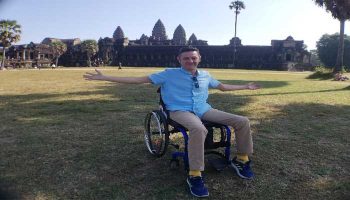 One of the fastest growing segments of the travel industry is that of Accessible Tourism- tourist destinations and services which are available to everyone regardless of disability, age or other issues. Whereas governments and businesses in other South East Asian destinations such as Thailand and Cambodia include accessibility in their tourism strategies, Sri Lanka hasn't yet recognised the financial opportunities it represents.  For a country where tourism plays such a pivotal role, Sri Lanka must address this.

How big is the Accessible Tourism market?
It must be remembered that improving access to goods and services benefits all members of society, not just tourists with disabilities. For instance, level access entrance into a shop will benefit parents struggling with bags and young children; grabrails in a bathroom benefit senior people who may not class themselves as disabled but find a bit of extra support as 'helpful'.
So, does it make financial sense for the tourism sector to improve accessibility? A quick look online suggests that it does. There is a plethora of groups on Facebook focused on disability and travel while more and more travel agents are specializing in servicing this growing, niche market.
According to 'Visit England', Accessible Tourism in 2015 was worth $16 billion to the UK economy. In Europe, the market was worth $170 billion. Meanwhile, the Sustainable Tourism Cooperative Research Centre in Australia says that 88% of people with physical disabilities take a holiday each year.
In terms of demographics, the UK has 7 million people with disabilities; Europe 80 million; USA 70 million and China 60 million. The chance of disability affecting us increases as we age so with rising life expectancy and the propensity of seniors to take holidays (in 2018 50 million European tourists were over 65), the Accessible Tourism market will keep growing.
From a business point of view a customer with disabilities shouldn't be regarded as a single entity. Very few disabled people travel alone- usually they are accompanied by friends or family members. Consequently, an inaccessible business will not only miss out on the disabled person's spending, but also that of family and friends.
The Sri Lanka Tourist Board doesn't compile statistics on the number of tourists with disabilities visiting the country but going by accessibility of local transport, accommodation and tourist attractions I expect this figure to be very low. Accessible travel agents in UK and Europe have an abundance of tours to Thailand, Cambodia, India and Vietnam. Very few offer Sri Lanka as a destination.
So, what should be done in Sri Lanka?
Both the public and private sector have significant roles to play. The government is (correctly) investing in accessible transport infrastructure and is introducing legislation to promote access to buildings for people with disabilities but tourist sites need urgent attention.
While it is not possible to make places like Sigirya Rock wheelchair accessible, accessibility could easily be improved at other UNESCO sites, such as Anuradhapura and Polonnaruwa. Multi-lingual audio guides, accessible toilets and ramps are examples of possible improvements. Such improvements have already been done at historical sites in other countries- the Old City of Jerusalem is now wheelchair accessible, Ayuthaya in Thailand likewise. Even the Acropolis in Greece now has a wheelchair lift.
Hotels and restaurants need to improve their services and fully embrace the concept of accessible tourism. Installing new, accessible washrooms may be expensive, but a cheaper alternative may be the installation of grabrails in existing facilities.
Many improvements can be done immediately at minimal expense. For example, being able to contact hotel reception via Whatsapp message would benefit guests with hearing impairments, along with ensuring that all TVs in the disabled bedrooms are automatically programmed to display subtitles.
On my last visit to Sri Lanka in March 2019, a manager of a restaurant in Kollupitiya explained that there wasn't a ramp at the entrance steps because, "We don't get any disabled customers, so improving accessibility isn't an issue."
Maybe they don't get any disabled customers BECAUSE accessibility is an issue???
The economics is simple- improving accessibility will lead to more tourists who benefit from accessible facilities. These people spend more money. Business makes more profit. Business employs more people. Government raises more tax revenue.

In short, everybody wins from Accessible Tourism.
James has been a wheelchair user for 25 years and has travelled extensively throughout Asia. His experience of travelling with a disability has led him to start a disability travel consultancy (access the globe) to help the Sri Lanka Tourist sector improve accessibility and attract tourists with disabilities. James is a member of the European Network for Accessible Tourism and can be contacted at james@accesstheglobe.co.uk