Top News
Youth Co:Lab National Youth Dialogue 2023 in Sri Lanka aims to Unlock Youth Potential through Upskilling for Sustainable Development
Ministry of Youth and Sports, NYSC, UNDP and Citi Sri Lanka spearheads efforts under the theme of 'Growing Green Talents' to commemorate International Youth Day 2023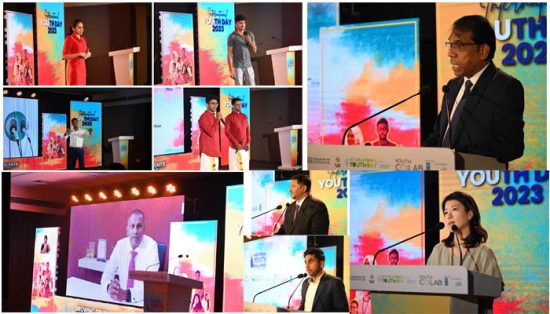 Recognizing the significance of the shift towards an environmentally sustainable and climate-friendly world is critical not only in responding to the global climate crisis but also for achieving the Sustainable Development Goals (SDGs), the Youth Co:Lab National Youth Dialogue 2023 in Sri Lanka was held in Colombo recently under the theme 'Growing Green Talents: Unlocking Youth Potential through Upskilling for Sustainable Development'. At the event held in line with the International Youth Day commemorations (12 August), more than 150 young people engaged in a dynamic and thought-provoking dialogue on empowering youth and harnessing their potential for sustainable development. The event brought together multi-stakeholders including influential leaders and stakeholders from the public and private sectors, and international development organizations.
The Youth Co: Lab National Youth Dialogue (NYD) is an annual event centred on fostering national youth engagement, led by the United Nations Development Programme (UNDP) and Citi Sri Lanka. This year it was co-hosted by the Ministry of Sports and Youth Affairs, the National Youth Services Council (NYSC) and Youth Co:Lab, co-led by UNDP and Citi Foundation.
International Youth Day is celebrated annually on 12 August to recognize the importance of young people as key contributors to social, economic, and political development worldwide. The 2023 theme to mark the day, "Green Skills for Youth: Towards a Sustainable World", reiterates that a successful transition towards a greener world will depend on the development of green skills in the population.
Hon. Roshan Ranasinghe, Minister of Sports and Youth Affairs in his message for International Youth Day stated, "Sri Lanka is embarking on a long-term sustainable development trajectory that will help us not only overcome and recover from challenges but also thrive as a nation. Therefore, to achieve this goal, the capabilities that young people have will be critical and a key capability that you will need to cultivate is green skills, to ensure Sri Lanka is greener and more sustainable for all. As the Minister of Sports and Youth Affairs, I reiterate my commitment, together with the NYSC, and in collaboration with partners such as the UNDP, Citi Foundation, and others, to create all the necessary opportunities and platforms, such as this, for young people to succeed and contribute to Sri Lanka's development."
Commenting on UNDPs role in advancing the youth development agenda in Sri Lanka, Ms. Azusa Kubota, Resident Representative, UNDP in Sri Lanka noted, "In the post-pandemic and crisis era, Sri Lanka is well positioned to decisively pursue a socio-economic recovery pathway that is green and inclusive. Young people can be change agents in driving green innovation and businesses to help Sri Lanka and the global community to combat the climate emergency while reviving the economy. UNDP in Sri Lanka remains steadfast in our support to GoSL and its people to invest in green skills, create new partnerships and collaborations, and upscale collective investments with the aim of creating a future-ready youth population in Sri Lanka at this critical time."
The programme included an interactive dialogue on 'Growing Green Talents' which saw the participation of diverse stakeholders to raise awareness on the importance of building green skills for young people in Sri Lanka and a spotlight segment that highlighted and celebrated story sharing of ongoing youth-led green development efforts within the country.
One such young change-maker, Ms. Maleesha Gunawardana, Advocacy Lead of The Pearl Protectors, sharing her thoughts said, "It's inspiring to witness the rising awareness among young people about climate change and their desire to take action towards a sustainable future; from changing their consumption patterns to wanting careers that contribute to environmental sustainability. As a marine conservation volunteer, I have encountered many passionate young individuals who are keen on understanding the environmental threats that affect our oceans. They are also eager to acquire the necessary skills to make a positive difference. By working together, we can create more opportunities for the youth to develop green skills, pursue green careers and lead the change."
Highlighting the Government's role in engaging with youth, Mr. Pasindu Guneratne, Chairman/ Director General, the National Youth Services Council stated, "In celebrating International Youth Day 2023, let us recognize our young generation as indispensable nation builders in the journey towards becoming a developed country. Empowering them with knowledge and expertise, we envision a future where youth lead the charge in building a sustainable, green, and prosperous nation. Let us foster a spirit of innovation, equipping our youth with the necessary tools to protect our planet, mitigate climate change, and lead the way towards a greener, more resilient world. Together, we can create a powerful force for positive change, ensuring that our youth's vision and efforts shape a brighter tomorrow for all."
Youth Co:Lab, co-led by UNDP and Citi Foundation is the largest youth movement for empowerment, social entrepreneurship, equality, and social inclusion in Asia and the Pacific. The National Youth Dialogue in Sri Lanka is part of a series of dialogues held each year in more than 20 countries across Asia and the Pacific region that complements a wide range of programmatic interventions that build leadership, innovation and entrepreneurship capacities of young people.
Speaking of their role as an implementing partner of the regional initiative, Mr. Ravin Basnayake, Managing Director/ Country Officer, Citi Sri Lanka noted, "We, at Citi and the Citi Foundation, are committed to fully embracing the diversity of the communities we serve, fostering development and future leaders that are equipped with the right skills. The Youth Co:Lab National Youth Dialogue over the years has brought together partners and young leaders working towards youth empowerment in Sri Lanka, and we are proud to stand together with UNDP in supporting the Youth for the 2030 Agenda."
The event emphasized the importance of green skills, which are 'knowledge, abilities, values and attitudes needed to live in, develop and support a sustainable and resource-efficient society.' While green skills are relevant for people of all ages, they have heightened importance for younger people, who can contribute to the green transition for a longer period. Among the key highlights were how youth respond to present-day challenges with innovative approaches and fresh ideas, building bridges and creating the world they want, leading development for themselves, their communities and their societies.