Travel & Tour
Sri Lanka Tourism focuses on the Egyptian Market, by hosting an Industrial FAM Tour
For Egyptian Travel Agents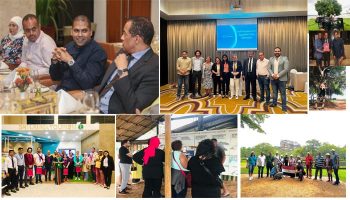 Expanding its FAM Tour campaigns towards the Middle Eastern Region, Sri Lanka Tourism Promotion Bureau, in collaboration with the Sri Lanka Embassy in Egypt organized a familiarization tour for 8 Egyptian Travel agents from 20th to 26th October 2022. They were highly fascinated with their experience in Sri Lanka along with its Scenic Beauty, Cultural Splendor, and also experiencing the tantalizing taste of traditional Sri Lankan cuisine. This tour was highly recommended by the Sri Lanka Embassy in Egypt, seeing the potential of attracting Middle Eastern travelers to the destination and its capacity as a possible source market. The purpose of the tour was to create awareness about the rising potential in Sri Lanka Tourism which will increase the urge of Egypt travel agents in organizing more tourist arrivals to Sri Lanka. The Tour covered main Tourist attractions such as Minneriya , Sigiriya , Kandy , Nuwara Eliya , Ella and Beruwela . Complimentary service facilities for the tour were provided by the Mahaweli Reach Hotel Kandy, Anantara Hotel Kalutara & Aitken Spence Travels.
The scenic Nuwaraeliya and the Kosgoda Turtle hatchery was two of the main attractions which the visitors were fascinated with.Proceeding further, B2B sessions were held successfully after the tour with 8 Egyptian tour operators on 25th October 2022 at the Movenpick Hotel Colombo, and 50 members from the industry travel trade were given the opportunity to participate for these sessions. Both local and Egyptian travel agents were able to share their ideas and inquire about possible connectivity between the two destinations.  Though Egypt at the moment is not a main Source market, it can be highlighted as one of the potential markets which will be able to draw a large number of tourists to Sri Lanka, given the relevant promotion.
In addition, a discussion session was also organized with Egyptian Tour operators with the Presence of Hon. Minister of Tourism, Harin Fernando. H.E Ambassador Egypt for Sri Lanka was also invited for this discussion session. Chairman of SLTPB & the Managing Director of SLTPB participated for this event with the officials of SLTPB. Important details as of strategies of how to promote Sri Lanka Tourism in Egypt, and the holiday options which can be highlighted for the Egyptian travelers were further discussed. Total Tourist arrivals from Egypt was recorded as 1810 up to September 2022, which can be further increased by creating more awareness about the destination among the Egyptian travelers.
Sri Lanka offers a wide range of holiday opportunities for every traveler, and it can be assured that travelers will not be disappointed with its endless holiday and travel opportunities. What with its mesmerizing beaches, lavish greenery, exotic wildlife and the easy accessibility of locations, such amazing opportunities makes it a 365 destination and a valuable destination which has so much to offer. The Egyptian Travel agents gained a such valuable experience that they could encourage their fellow countrymen to come and pay a visit to this beautiful island paradise.
Egypt carries a very rich and a diverse history dating back to thousands of years, and natural and cultural attractions, and tourism is one of the main sources of income for Egypt. It shares similar values as Sri Lanka as a hospitable nation, ready to help when in need. Sri Lanka Tourism expects to proceed with its promotional activities in Egypt, cementing a strong relationship as well as strengthening Cultural and Bilateral ties between the two nations.