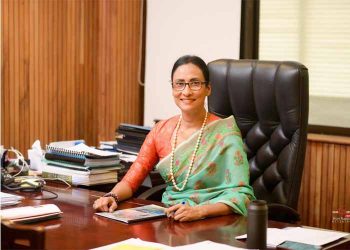 Sri Lanka Tourism held a virtual press conference for the German and Swiss media explaining Sri Lankas' updated travel opportunities and current health protocols for incoming tourists. The virtual media conference was attended by twenty key media personalities which included key German television channels, editors from German travel magazines, reporters from newspapers and freelance reporters. Sri Lankas' Ambassador in Berlin, Her Excellency Manori Unambuwa addressing the virtual media conference, shared sentiments of Sri Lanka's diplomatic relations with Germany and stated that the mission will be happy to assist travelers on visa requirements.
Addressing the conference, Kimarli Fernando, Chairperson of Sri Lanka Tourism stated that "Sri Lanka Tourism is driven to cater prospective tourism markets including the Germany and Switzerland. Some of the first flights out from Germany on the reopening of the Sri Lankan airport, consisted of 21 German citizens and it was with immense pleasure that the Sri Lanka warmly welcomed Germans coming from all parts of the world". Dushan Wickramasuriya, Director Marketing, Sri Lanka Tourism Promotion Bureau, (SLTPB) who moderated the event also stated that Sri Lanka tourism is looking at possible editorial and documentary affiliations.
Sri Lanka Tourism went on to brief the media representatives on updates regarding pandemic restructured travel guidelines which has incorporated vaccinated and not-vaccinated persons travelling and Sri Lanka's innovative "Bio Bubble" concept.
Furthermore, inquiries about locations in the North and East of Sri Lanka being available on the list of approved travel cites for tourists were specifically addressed. Likewise, there was substantial interest in venues like the museums in Colombo and tea plantations being open to foreign travelers. Sri Lanka Tourism stated that there have been special requests from tourists to visit casinos, shopping malls and travel on steam trains. Sri Lanka Tourism stated that requests can be made via the hotel to attain approval to visit the requested sites within the travel bubble.
Questions also arose about the commencement of Sri Lanka being a destination for MICE. The Chairperson SLTDA highlighted that MICE business is a very encouraging topic to Sri Lanka Tourism and revealed that Sri Lanka was exploring avenues to promote MICE in Sri Lanka at the moment.
German media representatives were interested on the availability and safety of Ayurveda treatments in Sri Lanka. Addressing the question, Chairperson stated that these treatments are provided and is safe for travelers to access, and the therapist will also be a part of the travel bubble to ensure there is cross contamination with the local population.
Sri Lanka Tourism concluded the press conference on the note that since Sri Lanka is a small country; it is able to accommodate prior requests from travel agents to open out interesting sites to foreign holiday makers. Nonetheless, emphasized that it remained committed to the welfare of foreign and local populations' safety and will take all precautionary measures.