News
"Leadership development among future military leaders to face emerging security challenges is vital" – Defence Secretary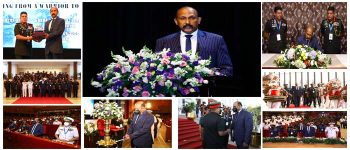 • Defence Secretary requests at Symposium for middle grade military officers
• Our great nation expects complete honesty and integrity from its military
Leadership development among future military leaders is necessary in order to face the novel security challenges faced by our great nation said the Defence Secretary Gen. Kamal Gunaratne today (Jan 13).
Our great nation expects complete honesty and integrity from its military upon which its security and territorial integrity depends he said adding that "leaders with integrity do not suffer from duplicity or hypocrisy".
"An officer in the modern era could professionally survive many different types of failures in his or her military career, but they could not survive a failure of integrity", he went on saying while addressing a gathering of middle-grade military officers at the Bandaranaike Memorial International Conference Hall (BMICH), Colombo.
The Defence Secretary was the Chief Guest at the Armed Forces Middle-Grade Officers' Leadership Symposium – 2021 titled 'Military Leadership in the Contemporary World: Evolving from a Warrior to a Friend in Need' held at the BMICH which is organized by the Office of the Chief of Defence Staff (OCDS) under the directives and guidance of Acting Chief of Defence Staff (CDS) and Army Commander Gen. Shavendra Silva.
Gen. Silva delivered the welcome address at the outset of the programme and a moment of silence was also observed as a mark of gratitude and remembrance to all those great souls who made the supreme sacrifice towards ushering an era of peace and unity in the motherland.
Accordingly, Re-defining Traditional Role and Task of the Military in National Security, Emerging Role of Military Leadership in Contemporary Operational Environment and Military Mind-set: Professional Approach to Military Leadership were the sub themes of the day's programme.
Mentioning the great leaders who existed in the country's armed forces, those led the military to be victorious against the most ruthless terrorist outfit Defence Secretary said that it further amplifies the outright necessity of the leadership development among future leaders in order to face the novel security challenges faced by our great nation in the present context.
Defence Secretary was optimistic that this symposium would be beneficial for the Tri Force middle-grade officers in order to develop their leadership traits to match the contemporary operational environment in all ways imaginable.
"Military needs a corps of highly skilled technologically capable officers to conduct future wars", he said indicating the need for officers to be professional on their jobs which continues to increase as the new technology and the managerial systems of leadership keep advancing, creating a new kind of military culture that can fight only with highly sophisticated tactics.
Speaking on evolution from a warrior to a friend in need, knowing men under command and the ability to understand and share their feelings, he also emphasised on the necessity of practising emotional intelligence during the speech.
Navy Commander Vice Admiral Nishantha Ulugetenne, Air Force Commander Air Marshal Sudarshana Pathirana, Chief of Staff of the OCDS Maj. Gen. Ajith Dissanayake, Head of the Department of Strategic Studies of General Sir John Kotelawala Defence University Dr. Harinda Vidanage, Director General Coordinating of OCDS Air Vice Marshal Prasanna Balasooriya, Director General Naval and Air Operations of OCDS Commodore Pujitha Sugathadasa, Director Training and Doctrine of OCDS Brig. Suresh Perera, Chairpersons of Symposium Sessions, Guest Speakers, senior military officers and a large gathering of middle-grade officers were also present at the symposium.