News
NBRO to be strengthened further with regulatory powers – Defence Secretary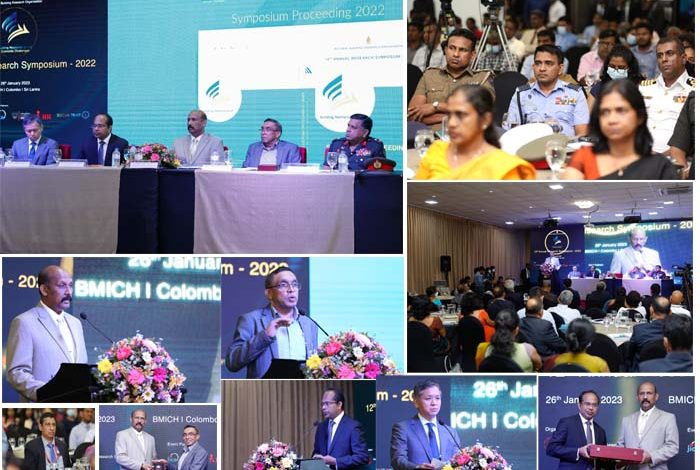 Defence Secretary, Chief Guest at the 12th Annual Research Symposium of NBRO
Says, sustainable development cannot be overlooked due to economic constraints
Says, reducing damages from landslides remains as one of the key collective challenges
The coming year will strengthen the 'National Building Research Organisation' (NBRO) with further regulatory powers with the enactment of the proposed National Building Research Institute Act, Defence Secretary Gen. Kamal Gunaratne said.
Gen. Gunaratne expressed these remarks while addressing a distinguished gathering, as the Chief Guest, during the '12th Annual Research Symposium – 2022' organized by the NBRO, on the theme of 'Building Resilience amidst Economic Challenges' at the Bandaranaike Memorial International Conference Hall (BMICH) in Colombo, today (Jan 26).
NBRO Director General Eng. Dr. Asiri Karunawardena delivered the welcome address at the outset of the Annual Symposium.
The Chief Representative of Japan International Cooperation Agency (JICA) in the Sri Lanka Office and JICA's Cooperation for DDR Yamada Tetsuya delivered the Guest Speech and Prof. Sirimal Abeyratne, Head of the Department of Economics at the University of Colombo delivered the Keynote Address during the session.
On his note Defence Secretary who is also the Chairman of the NBRO Board of Management, stating this symposium as an opportunity for NBRO's technical staff to present research findings and disseminate outcomes under the very timely theme of 'Building Resilience amidst Economic Challenges' reiterated that "Disaster Management is an essential part of the sustainable development of a country that cannot be overlooked due to economic constraints".
He is of the view that most of the damages to humankind and infrastructure are reported under landslides and said "Amidst today's economic and social situation of the country, there is no doubt that reducing damages and losses from natural disasters particularly from landslides, remain as one of our key collective challenges", highlighting that "The increasing numbers of landslides and vulnerability of affected population are critical problems in the country".
Naming a few areas prone to landslides and slope failures which bring a negative impact on the economy and the Gross Domestic Product (GDP), he remarked "More people are affected by the rising scale and frequency of landslides and the poorest suffer most from these setbacks".
Referring to Sendai Framework for Disaster Risk Reduction which is the international framework developed to guide efforts on disaster risk reduction and the need to adopt new approaches, he requested all to join up in our approaches if we are to reduce risk by working cross-sectors, between and within institutions and ensuring harmony through the implementation of policies to executing activities.
Collaboration, cooperation between NBRO and other international and national partners including academia, research centres, development partners through landslide mitigation, early warning generation, human settlement development, geo technical approaches, provide a green light along the path to achieve resilience, he added.
Throughout the years, NBRO has expanded and diversified its technical capacities across different fields in disaster management and provided their technical consultancies to strengthen the government's efforts in sustainable development, he said citing their technical support provided during recent episodes of urban air pollution, technical support in quality assurance of materials used in 'Deegawapiya Stupa' restoration project, landslides and slope instabilities such as 'Kadugannawa' and 'Nallathanniya' land instability, which required to adopt crucial decision making within a short span for the state agencies to make timely decisions.
State Minister of Defence, Hon. Premitha Bandara Tennakoon is of the belief that the research outcomes of this scientific forum will contribute to enhancing disaster risk reduction. He also said conveying his message "Building a disaster-free safe environment wouldn't be a dream anymore".
The event also saw the launching of SABO project manuals, manual on the systematic assessment of chemical disasters in Sri Lanka, annual report on urban air quality in Sri Lanka 2022 and a video presentation, a video brief on patent license received for fibre-reinforced paving block, demonstration of a database on mitigated landslides locations and living lab system developed for Kalutara with NBRO and University of Salford Collaboration.
The Defence Secretary presented a souvenir to the keynote speaker Prof. Abeyratne. Further, a souvenir and a copy of the manual 'Systematic Assessment of Chemical Disaster Risk in SL' were presented to the Defence Secretary to mark the occasion.
Additional Secretary of the Disaster Management Division, Director General of Disaster Management Centre (DMC) Maj. Gen. Sudantha Ranasinghe, JICA representatives, reps of other international agencies, invitees of government and non-governmental organisations, professional bodies and industries, officers of the Defence Ministry, DMC, Met Department, NBRO and tri-forces were present.