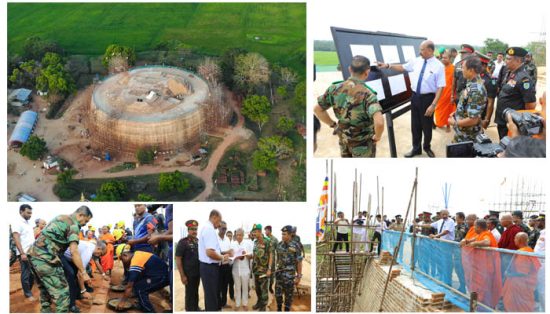 Driving force behind the Deegawapiya restoration project, Gen. Gunaratne inaugurates the 2nd stage
The second stage of the Deegawapiya Stupa restoration project was launched by placing a symbolic Stupa brick by General Kamal Gunaratne, the 'Author of the Deegawapiya Aruna Trust' and 'First Trustee', at the Deegawapiya premises, on July 10.
Gen. Gunaratne, the driving force behind the entire project since its beginning, paid homage to the Chief Prelate of the Deegawapiya Raja Maha Viharaya Ven. Mahaoya Sobitha thero on his arrival.  A brief discussion related to the progress of the restoration projects was also held during the session.
The three day long preparation for the second stage saw various customary rituals associated with the sacred construction including an all-night Pirith chanting that culminated in the dawn of 10th Monday followed by alms giving to Ven. Maha Sanga, at the venue.
The visiting delegation led by Gen. Gunaratne during his visit reviewed peripheral constructions in the site while paying his attention into the Shrine Hall and the Relic House which are being erected at a rapid phase.
Whole process is funded by the 'Deegawapiya Aruna Trust Fund' which is generously supported by the philanthropists. Devotees who are eager to witness the former glory of Deegawapiya Stupa at their naked eye and to extend their generous supportive hands can obtain details through the Deegawapiya website www.deegawapiya.lk, deegawapiyaaruna@gmail.com or the contact – 011 2430860-78.
On completion of the programme at Deegawapiya, the delegation also delved into the progress of 'Neelagiri Maha Seya' restoration project, which has reached up to 41 feet height from the ground level, as of today.
These Stupa restoration projects are in progress under the supervision of the Department of Archaeology and relevant state institutions while preserving ancient value and former glory of the respective sacred sites.
Venerable Maha Sanga including the Assistant Coordinating Director for Piriven Education in Eastern Province, Ven. Kirindiwela Sri Somarathana and Chief Incumbent of Pothubandana Raja Maha Viharaya Mahaoya Jinarathana theros, Army Commander Lt. Gen. Vikum Liyanage, Air Force Commander Air Marshal Udeni Rajapaksa, Additional Director General Academics and Director of Architectural Conservation of the Department of Archaeology Prasanna Ratnayake, Commander Security Forces Headquarters East Maj. Gen. Darshana Wijesekara, Military Liaison Officer of the Ministry of Defence, Brig. Dammika Welagedara  regional and respective project officers' architects, archaeologists, engineers and Police officers were also present during the visit