Travel & Tour
Polish media personnel experience the Paradise island on Motorbike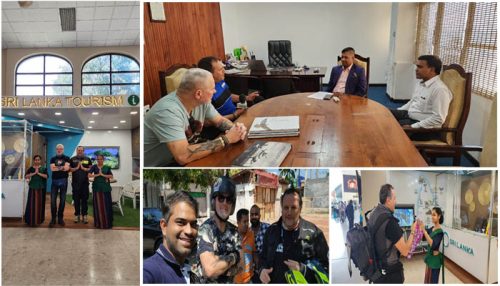 Sri Lanka Tourism Promotion Bureau hosted two Polish Social Media influencers, namely Enriquo Buscema (TV host) and Wojciech Alexander, (Producer) of the popular Polish TV channel ''Motowizja '' and also with the intention of filming some footage of Sri Lanka for their programme,  ''Motowizjoner '' ( Motowizja starts)  for a bike tour across the country, in order to increase more Polish visits to Sri Lanka. .Motowizjoner is a program for motorcycle enthusiasts who want to explore the world . They arrived in the destination with the purpose of promoting Sri Lanka among the Polish tourists and most importantly correcting the negative information about Sri Lanka circulated among some main stream media, taking back the message that Sri Lanka is safe and open for tourists, to enjoy the best vacation of their life with so much travel opportunities in store. They started off their motorcycle tour from Habarana , while then moving on to Hurulu eco park , polonnaruwa, and Sigiriya, Pidurangala and back to Kandy ,thereon  reaching  Nuwaraeliya , Ella and  Tangalle  . Enriquo Buscema and his team continues to show the beauty of two wheels, as well as visiting a lot of unique places and present extraordinary moto – enthusiasts on the way.
The Motowizjoner youtube channel has 370,114 views and 453 subscribers, 331 likes on facebook , and 15.3 k followers on Instagram . Motowizja is the most popular independent TV channel in Poland, catering to 4 million households, and more than 12 million Polish viewers. The channel is available through satellite, cable and Euro sport player Poland.
The two Polish media personnel were highly enthusiastic about being in Sri Lanka and experiencing its culture, tradition, cuisine and the hospitality and the warm smile of its people. Enriquo , on the other hand , had been in Sri Lanka for three years, whereas he is also an author , who had written a book about Sri Lanka and his experiences. Sri Lanka Tourism was also able to get highly positive feedback on the destination and purpose, whilst doing an interview with both influencers. They were even interested in knowing about the population in Sri Lanka, and its capital city, and the correct idiom used for Sri Lanka, such as the '' Pearl of the Indian ocean '', and the inter –marriage system in Sri Lanka ''. These small interests showed their love and passion for Sri Lanka, and the need of exploring the destination in depth.
Alexander expressed his feelings about Sri Lanka, mentioning that motorcycles are a symbol of freedom, and it is a form of experiencing a country or a segment from A to B, also expressing your emotions and all the possible feelings. Their purpose is to encourage more Polish travelers to visit Sri Lanka, especially during winter and since they have the budget to travel, and they enjoyed the tour immensely via telecasting the food, weather, and further went on to mention that anybody can travel in Sri Lanka even on normal motorcycles. Alexander mentioned that Sri Lanka has much more than the Maldives, including culture, safaris, and so much more.  Sri Lanka is just not a simple country in Asia   or having been a colony of the Portuguese, and there are so many things to see in Sri Lanka. He recalled some moments when they were at the Lotus Tower and taking selfies with people and saying hello, and complimented on their simple lifestyle and amazing hospitality.
Expressing his opinion on Sri Lanka, Enriquo also mentioned his experience in Seychelles, and said compared with Seychelles, Sri Lanka was more affordable and convenient. He further stated that Tourism is becoming more fashionable, and that was their target. '' it's a totally different world from Europe. We can always discover something new and exciting. our purpose is to show them something different. I have been here many times, and I lived in Sri Lanka for 3 years. During these 3 years I went to many places. Also Pakistan, India, Maldives, Nepal … but it's always good to come back here. Laying on the hammock of the Nilaweli beach with my wife was one of the best experiences I had''.
They promoted their Sri Lankan experience via multi Media solutions, giving a live update on social media, posting on Instagram, and a live video of some interesting experience they encountered on their tour. Their TV programme, '' Motowizjoner'' air their updates every Wednesday evening, which is a 30 minute programme. It is also repeated 6 times across the week, and after 3 weeks of broadcasting, the videos are uploaded on you tube, where they promote it among the channels of motor travelers.
Through programmes such as these, Sri Lanka hopes to enable more Polish tourists to Sri Lanka, spreading a positive message through these Media personalities, and to achieve a considerable number of Polish Tourists to the country, similar to that of 2022, where Sri Lanka received 15,192 tourist arrivals from Poland. According to statistics, it has been noted that most Polish travelers come to Sri Lanka with the purpose of pleasure. The purpose of visiting friends and relations also has a considerable amount of arrival rate, due to the fact that some Polish people reside in Sri Lanka and bring their friends and family to visit. The genuine enthusiasm portrayed by these Polish Media personnel and the enthusiastic feedback they received from their posts, shows a positive sign of attracting more Polish tourists, and taking back an experience they will remember for some time.