Travel & Tour
SLCB Wraps-up Series of Educational Sessions on MICE Tourism for The Year 2021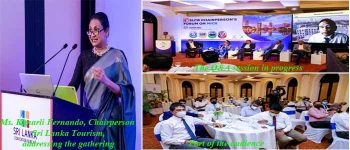 The Sri Lanka Convention Bureau (SLCB), in collaboration with the Sri Lanka Association of Professional Conference, Exhibition & Event Organizers (SLAPCEO), recently organized the Fourth and Fifth SLCB Chairperson's Forum on Meetings, Incentives, Conferences, Exhibitions & Events (MICE) activities at Taj Samudra Colombo. The Forums – held over two distinct sessions – comprised dialogues and discussions on "State Mechanism for MICE Development in Sri Lanka" and "MICE Economic Development through Higher Educational Institutions" respectively. The SLCB, a state institution under the Ministry of Tourism organised the Forums with the prime objective of promoting Sri Lanka as a venue for MICE (Meetings, Incentives, Conferences, Exhibitions & Events).
Previous versions of the SLCB Chairperson's Forum on MICE comprised a series of educational seminars and workshops aimed at creating awareness among industry stakeholders, including diplomats, airlines, associations, business chambers, and academics, in promoting Sri Lanka as an ideal venue for MICE ventures. Among the Forum's aim is the dissemination of information on MICE tourism and its many benefits for the country, and educating stakeholders on positioning Sri Lanka as an attractive venue for MICE.
The Fourth SLCB Chairperson's Forum on MICE featured a panel of expert speakers including Chairperson – Sri Lanka Tourism Mrs. Kimarli Fernando, , Mrs. D. L. Sannasooriya, , Acting Secretary – Ministry of Tourism, Secretary – SLAPCEO Mrs. Nadeeka Leeniyagoda, Manager – Sri Lankan Holidays Mr. Buddhika Hewawasam, and Director General Sri Lanka Accounting and Auditing Standards Monitoring Board Mrs. Anusha Mohotti. Attendees included a gathering of key representatives from state entities in Sri Lanka.
Opening the Forum with a discussion on the topic "Rediscover Sri Lanka with MICE Events", Chairperson – Sri Lanka Tourism Mrs. Kimarli Fernando commenced with an open appeal to the audience to collaborate with the Ministry of Tourism on matters of MICE, encouraging them to secure conventions to be held in Sri Lanka. Fernando also highlighted that despite the pandemic, Sri Lanka has continued to make strides in tourism, having been featured by a plethora of notable institutions such as Conde Nast Traveller and Lonely Planet. She added that the successful vaccination drive in the country and the diligent health protocols in place would attract a large number of travellers. Mrs. Fernando expressed optimism for tourism in the country, adding that Sri Lanka is firmly poised to deliver the needs and wants of the post covid traveller – wellness, nature, and space. A year round destination, Fernando believes the island's strategic location, diverse experiences, melting pot of culture and rich history will draw a plethora of tourists, but opined that in order to widen appeal, necessary changes were required, including intuitive service, up-scaled offerings, disability friendly access, and upgraded facilities. "We are working on a global promotion campaign, and we're looking to work with tourism stakeholders to improve standards so tourists could have a good experience every step of the way". Mrs. Fernando also shared that the country's first holistic travel app was being conceptualized, and is tipped to provide information at one's fingertips.
Speaking on the "Role of state institutions to develop MICE Tourism in Sri Lanka", Acting Secretary – Ministry of Tourism Mrs. D. L. Sannasooriya shared that "the Bureau functions as a catalyst and commands the necessary government support in bidding for international and regional MICE events. It also acts as a coordinator in enlisting the cooperation and assistance of the public sector in organizing these gatherings". Owing to the disruptions in tourism as a result of Covid-19 pandemic, Mrs. Sannasooriya explained that the SLCB had taken steps in planning educational seminars, workshops, forums to create awareness among diplomats, airlines to equip and educate tourism stakeholders. "We invite the audience to host forums and events in Sri Lanka itself. We have a long tradition of hosting significant MICE events and we are fast becoming one of Asia's most sought after MICE destinations".
"MICE is a high yielding tourism sector" she elaborated. "It brings more foreign exchange revenue, exposes the country to a new class of affluent visitors, employs a large number of support services resulting in significant indirect employment and generates knowledge sharing opportunities, scholarships, and investment opportunities which are essential for the development of the country. It also directly contributes to the efforts of the tourism industry to promote Sri Lanka as an upmarket tourism destination". Mrs. Sannasooriya also pledged support for local institutions bidding for MICE events to be held in the country.
In her segment on "Connecting Sri Lanka with the World of MICE", Secretary – SLAPCEO Mrs. Nadeeka Leeniyagoda remarked that while MICE is a niche market in Sri Lanka, it is actually a billion dollar segment globally. "As per 2018 statistics, the MICE domain was worth 800 billion USD, and by 2025, the value would reach 1.2 trillion. We have great potential in this segment". Drawing attention to the varied scope of tourism avenues, Mrs. Leeniyagoda showcased the benefits for the country including profit, awareness and the platform to build its profile. She also highlighted benefits for the country as a direct consequence of MICE events, adding "there is great potential for economic growth, it supports direct and indirect suppliers. Attendees will return with their families for vacations". Mrs. Leeniyagoda announced that Sri Lanka is hoping to establish conference centres, including one in Port City. "We are hoping to build MICE facilities and infrastructure to rival those of Dubai and Singapore", she claimed.
Mr. Buddhika Hewawasam, Manager – Sri Lankan Holidays took the podium to share that Sri Lankan Airlines is appropriately placed to support MICE initiatives. "As the national airline, we do have a responsibility towards tourism, so we invite all tourism stakeholders – especially MICE – to use our facilities and our support. Air travel is vital for MICE tourism to prosper and we can connect you with the world through the MICE tourism network". Connecting 416 destinations and 55 countries, Mr. Hewawasam stated that despite the pandemic, SriLankan Airlines continues to expand its network and recently recommenced flights to key cities in France and Germany. He further mentioned that SriLankan Airlines is focusing on facilitating MICE events and working with partners simultaneously; embarking on joint promotional efforts, additional assistance, discounts and accommodating a plethora of requirements. He concluded by sharing that the Forum was an eye opener for stakeholders, as it showcased the support available to them.
The final speaker at the Forum, Mrs. Anusha Mohotti's segment comprised "Experience sharing – Bidding and winning an International Conference to Sri Lanka". Sharing her experience successfully securing the opportunity to host an event in Sri Lanka, she elaborated on the processes, the challenges as well as the support received from various institutions in hosting the event.
The last Forum of the series, which is the Fifth SLCB Chairperson's Forum on MICE hosted in the afternoon at Taj Samudra Colombo amidst a gathering of key individuals from educational institutions, sought to educate on how to organize an international conference in Sri Lanka and encourage them to host and organize conferences. Speakers at the event were Mr. Krishantha Fernando, Mrs. Kimarli Fernando, Mrs. Nadeeka Leeniyagoda, Dr. Shaffaath Amidon, Mr. Buddhika Hewawasam and Pro. K. P. Hewagamage. Dr. Shaffaath Amidon spoke on the role of higher educational institutions to develop MICE tourism in Sri Lanka and urged them to make Sri Lanka a 'knowledge hub'. Prof. K. P. Hewagamage, Director of University of Colombo School of Computing who played a leading role in organizing the International Conference on Advances in ICT for Emerging Regions (ICTer) at the University of Colombo for the first time, spoke on his experience in organizing the Conference annually. This year it was held for the 21st time. He encouraged the participants to organize international conferences in Sri Lanka which are relevant to their subject areas.